I am running ROON Remote on Mac #2. The ROON Core is on Mac #1. All seems to work well using Remote to control the Core and get audio from Server. But if I try to get audio out from the Remote (Mac#2), while using the Remote, there is no audio. I can see, and enable the Private Zone audio source, as in screen grab here: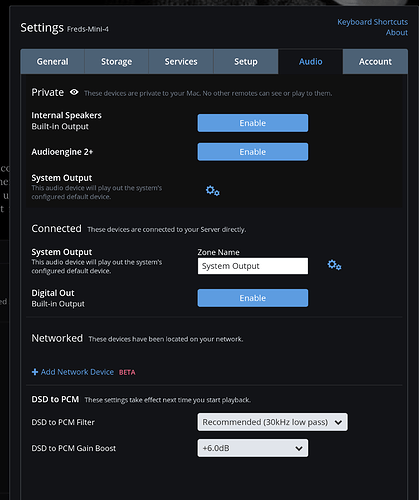 I've tried all possible combinations, individually and together, of "Internal Speakers"/Audioengine2+/"System Output". Tracks will play, but there is no audio from remote (though audio continues from Server). If I manually disable audio from the Core/Server, I then get a "No Audio Devices Found" message in the player (seen in screen grab below), despite Private Zone sources still seen in Audio Set Up, as above.
I realize I can not currently select the Remote/Private audio from the Core/Server end. But my understanding is that if I'm using the Remote, I should be able to Enable "Private" zone, which would then auto-disable the Server/Core audio. Am I misunderstanding something?
<img src="/uploads/default/original/2X/5/5995769b1501fa9e2be48fe24db6872108f1c3ea.png" width="690" height="385"