Core Machine (Operating system/System info/Roon build number)
Roon Nucleus V.1.0 (Building 227)
Network Details (Including networking gear model/manufacturer and if on WiFi/Ethernet)
Modem: Arrix XB6 (in bridge mode); Router: Network Orbi RBK852; NAS: Drobo 5N
Audio Devices (Specify what device you're using and its connection type - USB/HDMI/etc.)
Streamer: Auralic Aries 2.1 (in wireless mode); Matrix X-SPDIF 2 (attached to the Aries via USB Cable); PS Audio Directstream (to which the Matrix is attached via an hdmi cable to I2S input)
Description Of Issue
I am not able to stream from Roon to the Directstream with the Matrix attached to the Aries. I had originally configured the Aries as an endpoint in Roon and there was no problem in streaming to the Aries and outputting music to the Directstream when I was using either a usb cable or an XLR cable from the Aries to the Directstream. When I added the Matrix to the chain via a usb cable from the Aries and then HDMI cable from the Matrix to the Directstream, no music via Roon. When I use the Lightning software for the Aries and select "Lightning DS" as the control software, I can use the Lighting DS software to stream music to the Directstream. At least I know that there are no issues with the cables or the Matrix.
However, when I use the Lightning software and select "Roon Ready" so that I can stream from Roon, with the Aries selected as the Zone, no music. Instead, I simply get an "Unexpected Error communicating with audio device" message and no music plays.
I went into Setup in Roon and I do not see the Matrix as a device. When I click on the Gears for the Aries, I see the following: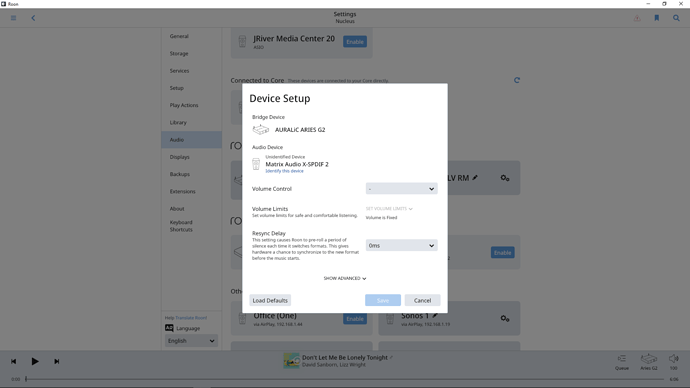 When I click on "Identify this Device", I get the Find Your Device screen but there is no entry for the Matrix. I tried selecting PS Audio and the Directstream since that is the DAC, but I just bounce back to above screen.
I'm stumped. Hopefully I'm just missing something obvious. In any case, any help will be most appreciated