Core Machine (Operating system/System info/Roon build number)
Linux 5.4.0-58-generic/192.168.1.77 Version 1.7 (build 710)
Network Details (Including networking gear model/manufacturer and if on WiFi/Ethernet)
router on 192.168.1.1
Audio Devices (Specify what device you're using and its connection type - USB/HDMI/etc.)
TEXT GOES HERE
Description Of Issue
​Hello,
I am an happy client of Roon since today !
I change my internet provider today and internet is fine.
When I tried to reconnect Roon (in remote mode with ipad or iphone) , it asked me my password that I forgot. I reinitialize it. When I connect to Roon :
1- first screenshot (attached) : it saw the core
I push the connect putton and the seconds screen I have to enter email and password.
I do it and then the second screen attached appears.
When i repeat the operation with laptop or other the same things.
Concerning the new provider (Bouygues) and its router I deactivate the firewall.
In advance thank you,
Best Regards,
Gilles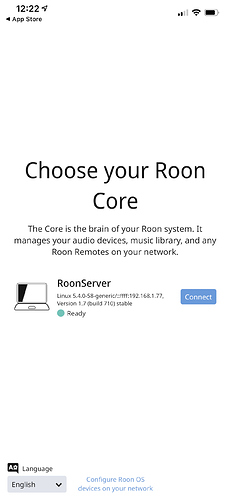 !