Roon Core Machine
Roon Nucleus. Only 15 days working.
Internal SSD Storage, and music from Qubuz Suscription.
Internal music is only DSD format.
Networking Gear & Setup Details
Roon conected by Ethernet UTP Cat 6 Cable. No problems with the conexion.
Connected Audio Devices
The Nucleus is conected by USB to a PrimaLuna EVO 100 DAC. I have tested the system with two different calble.
Number of Tracks in Library
About 500 albums in DSD format, mostly Clasicall so it is about 2.500 files, plus Qubuz Favorites.
Description of Issue
I listen a lot of DSD music with this set up for last two weeks. The screen of the Prima Luna DAC shows DSD64 or DSD 128, end every thig works properly.
I configured the DAC with DSD over PCMv1.0 (Dop) because the DAC works with DoP, and every thing sounds superb.
But today, in the middle of a Symphony the speaker begun to make a hiss, and the screen of the DAC change to 176,2 Khz, like the DAC receives PCM, instead of DSD. The sound was very low.
It seem like de Nucleus launch DSD, but the DAC do not recognize DSD
I have done some test. I connected a PC throw USB to the DAC, and playback DSD with foobar2000 software, and the DAC works properly.
I connected a Raspberry Pi, with roonpi software and configure as and end point via Ethernet cable, connected the raspberry to PrimaLuna DAC, and play DSD music from the nucleus, and everything works properly… The screen shows dsd64 and the music sounds properly.
But when I connect the Nucleus to the PrimaLuna DAC and play DSD, the screen shows 176,2 and nothing is OK.
I cannot understand, because I have use this set up, more than 40 hours listening DSD music without a problem. Even, I used the same configuration during a week, with another nucleus I was testing before purchase it, and I had no problems at all.
I have tested to restore the data base with yesterday copy, I have reinstalled the nucleus operating system, an also I have reset nucleus to the initial settings, but I cannot solve the problem.
For me it is really important DSD format.
I sent you a image with the configuration.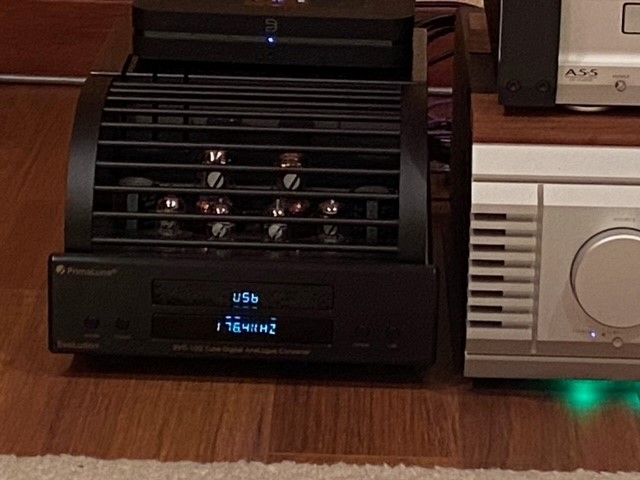 Can you help me?
Thanks in advance.