Content you're reporting an issue with
This is an LP I inherited from my grandfather. You can find it on DiscoGS at this link: Arcangelo Corelli – Arcangelo Corelli (1967, Vinyl) - Discogs
Have you made any edits to this content in Roon?
No edit, but I edited the file's metadata using MP3Tag before importing it in Roon.
Is this content from local files, TIDAL, or Qobuz?
It is a local file (ripped LP)
Screenshot of import settings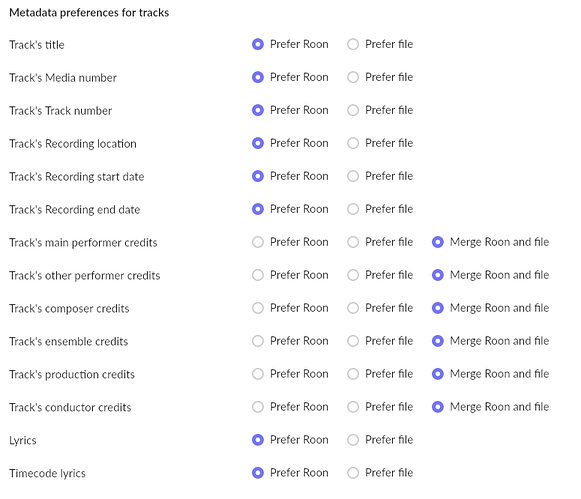 Description of the issue
Problem 1
I added the tag "Composer=Arcangelo Corelli" to all the tracks in the album. The tag is imported, however it creates a new composer instead of linking to the existing "Arcangelo Corelli" in Roon database.
Problem 2
I added performers tags in the form of (for example)
VIOLIN = name1
VIOLONCELLO = name2
etc.
However, these tags are not credited. If I use "SOLOIST", they are credited but not associated with the instrument (i.e. name1 and name2 will be both credited as soloist).

This is the "right" Corelli in your database: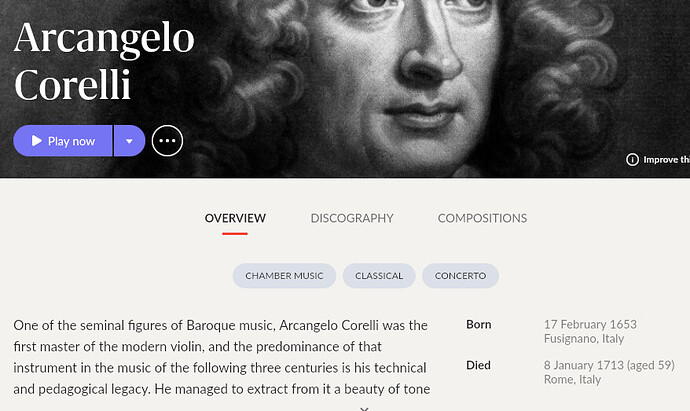 I've tried to manually edit the metadata in Roon, but there is no way to add Composer, just Artist.