Hi All
System is Rock on NUC i5. Various end points including multiple Sonos units connected via SonosNet.
I have been using the Rock as a Media Share for the Sonos without issues under the Sonos S1 controller. This week I upgraded to S2.
I added a new album to the Rock and tried to reindex but got an error that I've attached. I could play music from the library , but not update.
Sonos support tried some online diagnostics but were pretty much clueless. I restarted the whole system (including router) with no better result.
In a temper I deleted the library in sonos hoping I could create it from scratch - bad move!
So here is the conundrum
My CD file structure on the Rock is
Wave A to C
Wave D to F
Wave G to I
….
I can successfully build a share for Wave D to F and G to I , but not A to C which gives the same error as the photo. I can create a share for an album within the Wave A to C folder.
When I try to reindex, I again hit the issue shown in the photo.
The majority of the CDs were ripped with DB Poweramp, a small number are downloads .
Any ideas on this - is it something in the Data that's crapping out the Sonos ?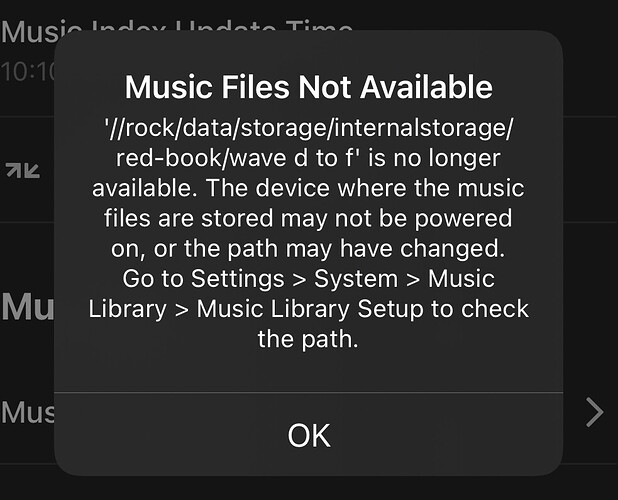 Add images
I have an intereting