I never open the Tidal desktop app anymore. I just run Roon. And I haven't yet figured out how how Tidal works through Roon.
I'll start with this, since it's surely a bug. Tonight I was looking (via Roon) for Led Zep IV. Never bought this in any digital form; usually listen on LP. But Tidal has it. So I searched for Led Zep, clicked on the artist–and saw, scrolling down, a list of Main albums–four albums total–and below that a list of 19 Tidal albums (with the three dots before "albums" in the header. Clicked on Led Zepellin IV (Remastered). Songs are shown as "Unavailable":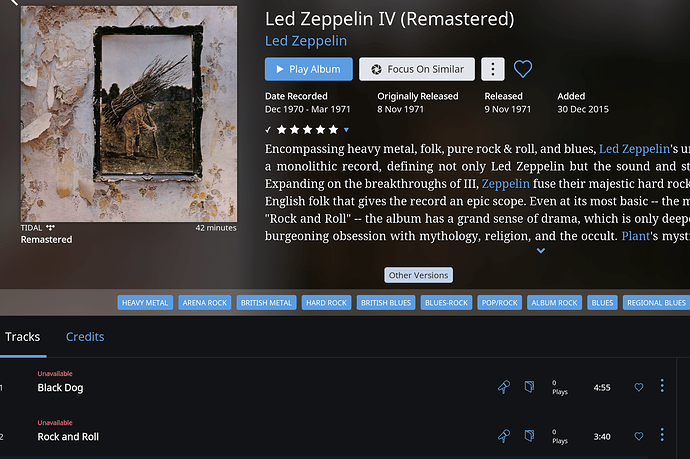 went to Tidal, the desktop app, clicked on the same album, and the songs are available there. So that's problem 1.
Problem 2–and this could just be me not understanding Tidal/Roon integration: When I go to the Tidal desktop app, I see 28 albums listed. But in the "Tidal Albums" section in Roon, there are 19 entries–19 albums. So 9 Tidal albums are missing. Maybe it doesn't count the Tidal albums I've added to my library? Fine, but I've only added four, so we're still five albums short. BTW, NEITHER version of Led Zep IV is among those 19 albums. (One of them, the Remastered version, is listed in the first section, but as seen above, the songs are "unavailable.")
So, probably at least a couple of different issues here. Help/elucidation appreciated.
jca