Core Machine (Operating system/System info/Roon build number)
MacMini 2012
MacOS 10.15.4
16 GB RAM
512 GB SSD (small music library, plenty of reserved disk space because I mainly stream Qobuz)
Network switch Cisco WS-C2960G-8TC-L Catalyst 2960 8-Port 10/100/1000 Ethernet Switch
Everything is wired, no wifi
The network provider is Xfinity (Comcast), CA USA
The network speed is > 400 mbps
No other processes are run by me except the RoonServer, of course there are some generic MacOS processes
Spotlight is disabled
Memory used the RoonServer is relatively small, a fraction of the total physical 16 GB
Please see more details below: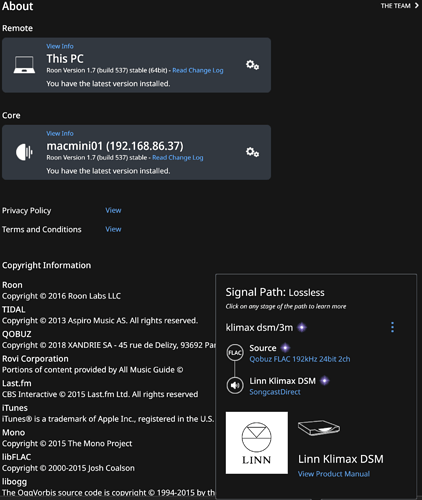 Description Of Issue
I have occasional "stuttering" issue with Qobuz streaming at hires 192/42, everything else below 192/24 is fine.
When that happens, restarting the RoonServer fixes it, looking at the MacOS Console logs does not show anything suspicious.
Both the Linn Klimax DSM/3 and the MacMini hook to the same Cisco switch.
PS: Please note that I do not have any issue whatsoever if I run the RoonServer on a Windows 10 PC or a Qnap NAS. The main reason I am using the macmini because it is intended to be a dedicated Roon machine.