@support Typically I download my Qobuz purchases in ALAC format, highest bitrate and sample rate available.
When I navigate in Roon to a purchased album via menu Qobuz => My Qobuz => Album purchases, I am usually presented with two library versions of the album: the downloaded ALAC, and an equivalent FLAC, which Qobuz uses for streaming. The ALAC is identified as the primary version. So far so good. But unless I explicitly choose the ALAC version, in this scenario the FLAC is being streamed from Qobuz. This seems odd to me, surely without user intervention playback should default to the primary version?
When I alternatively navigate to what seems to me an identical 'page' (eg by searching for the album name) and hit play, the local ALAC plays, as I would expect and prefer. But taken together with the above, it would be very confusing if I am right in thinking that the playback choice is dependent on how I navigate to the album.
The track name below is a beautiful coincidence, I suppose!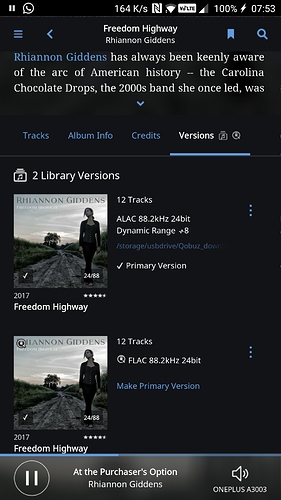 and