Roon Core Machine
Roon version 1.8 (build 898)
macOS Monterey Version 12.2.1
Mac mini (Late 2014)
Processor 2,8 GHz Dual-Core Intel Core i5
Memory 8 GB 1600 MHz DDR3
Networking Gear & Setup Details
Netgear ProSafe GS108E on Ethernet
Connected Audio Devices
Devialet Expert 440 Pro Dual connected via Ethernet to Mac Mini
MiniDSP SHD studio connected via Ethernet to Mac Mini, then via SPDIF to Devialet Expert 440 Pro Dual
Number of Tracks in Library
31389 tracks, 2531 albums, 1391 artists, 301 composers
Note: files are stored on hard disk of mac Mini running Roon Core
Description of Issue
Albums on Qobuz played via Roon do not always provide the same level of details about a given artist than if played via Qobuz application itself.
If I take the example of artist "Sofiane Pamart", Qobuz provides his biography.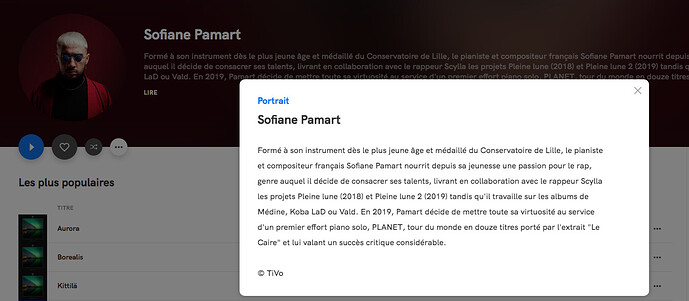 But this information does not seem to be available via Roon application. I only get the birth date of the artist:

Artist biography is available for very well known artists such as "The Beatles".
Is there a way to get Qobuz metadata available on Roon user interface ?