Core Machine (Operating system/System info/Roon build number)
Core is on MacMini late 2012 (Catalina) running RoonServer 1.7 (build 667)
Network Details (Including networking gear model/manufacturer and if on WiFi/Ethernet)
Ethernet
Audio Devices (Specify what device you're using and its connection type - USB/HDMI/etc.)
These are the clients (all 1.7 (build 667)) on which the problem appears: MacMini late 2012; iMac 27" late 2015, all running Catalina 10.15.7. Audio devices appear to have no impact on this (problems appear irrespective of zones chosen)
Description Of Issue
All album art missing from Qobuz, and all/most local album art is also missing. We also run a Roon client on a MacBookPro and on iPhones and an iPad. The album art problem does not occur on those.
Qobuz display on iMac: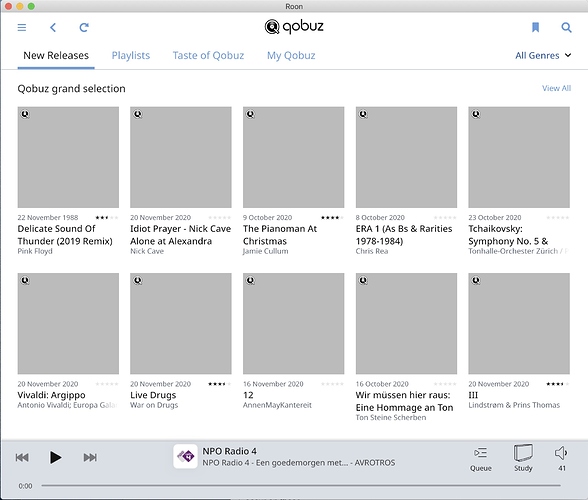 Local album art on iMac displays on the first page but disappears thereafter: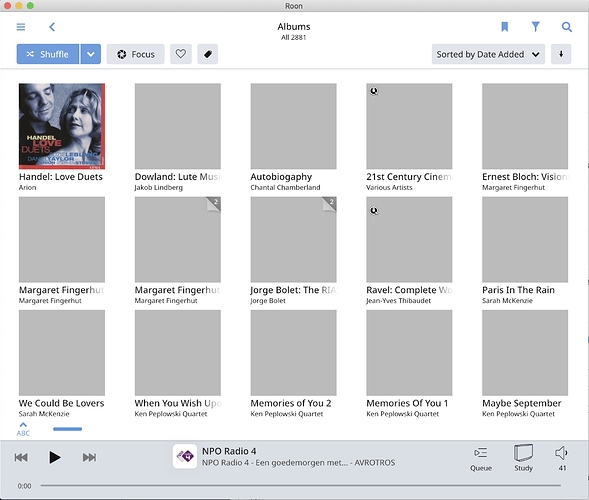 The MacMini is no different.
For what it is worth: I also have an old iMac running High Sierra. The problem of missing album art does not appear there. This old iMac shares the same network connection, using the same switch as the iMac running Catalina where the album art is missing.