This is the study you're referring to.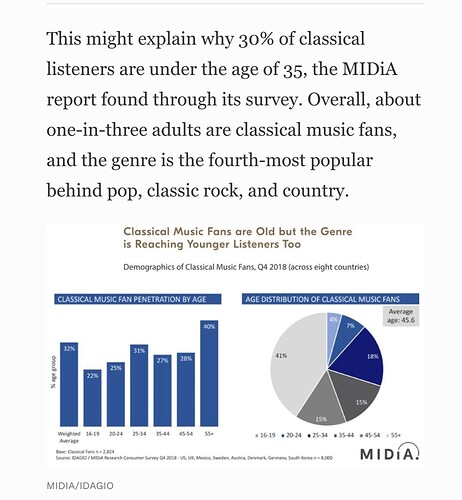 What it says is that 1) classical music is not a genre only listened to by older people 2) it is the fourth most popular genre. That's why there's plenty of potential in classical streaming.
By the way, Idagio subscribers are 100% classical (not 35% – that's the percentage relative to all genres), as Idagio is only classical.
I also believe that Apple/Primephonic is the best thing that could have happened for classical music streaming. That's the sentiment of Primephonic CEO Steffens (who is also head of classical music label Signum). Whatever you think of Apple, of all the bigger players, they are the ones that stand the best chance of getting classical music streaming right, as of right now, they already have the best app for classical (compared to Spotify, Deezer, Amazon and, to my mind, also Qobuz and Tidal). Finally, I'm sure that Apple did their research and concluded that there was significant potential to making classical music more mainstream. Had their research indicated anything else, they would never have acquired Primephonic.