Core Machine (Operating system/System info/Roon build number)
Roon running on Manjaro all latest versions. Manjaro runs on an Intel NUC.
Network Details (Including networking gear model/manufacturer and if on WiFi/Ethernet)
Wired(Roon server) / wifi
Audio Devices (Specify what device you're using and its connection type - USB/HDMI/etc.)
MacBook
Description Of Issue
Trialing Roon again. This time with Qobuz. After 1 hour encountered the following issue.
Before lunch all the Qobuz related information was loading. And now I'm getting Qobuz unauthorized messages in Roon. Qobuz by itself (apps/web player) works as normal.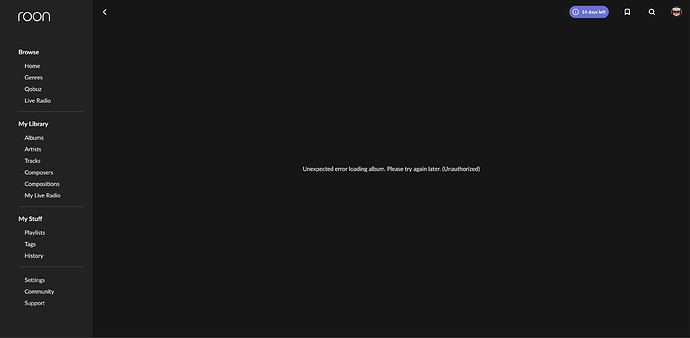 What I tried to remedy it:
logout/login of Qobuz in Roon
Disconnect core / reconnect core
Reboot core machine
Restart Roon on my MacBook Pro