I am streaming from a Qobuz account, through Roon with an Intel Nuc running Roon rock, bridged by lan to a Bridge Sotm sms200 ultra neo.
Some times tracks cannot play through Roon, even if I can play them in the Qobuz app.
Example right now:
Artist: Tønes
Album: Thilda Bøes Legat
First track - Treskjæring - is unavailable in Roon, but is playable in the Qobuz app. This track has behaved like this for a while.
What could be wrong? Anything i can do - Solution?
Please:)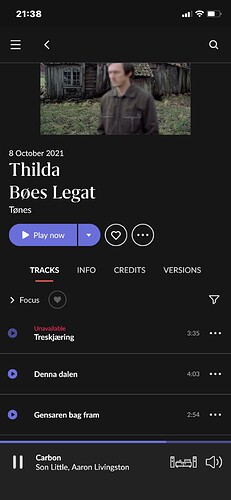 Edit: I just found a solution. I deleted album from Roon Library, and opened the Roon Qobuz menu. Searched for the album there, and re-added to my Library. Solved - thx:)