Core Machine (Operating system/System info/Roon build number)
NUC 8i7 Rock last version
Network Details (Including networking gear model/manufacturer and if on WiFi/Ethernet)
Rock connected to router via ethernet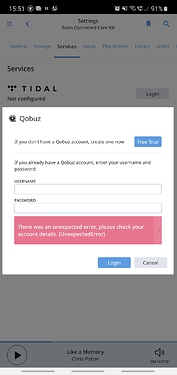 Description Of Issue
TEXT GOES HERE
Hello @support,
After my annual Roon subscription was renewed today, I can no longer log into Qobuz.
I have tried:
Router and NUC ROCK rebooted,
Tried several remote devices and cleared the cache of the each remote app there,
Cleared Roon cache via windows smb,
Logged out of Roon and logged in again,
… still can't login to Qobuz!
Tested the Qobuz app, played music and logged out and in there as well. Everything works fine there
I would now like to use what I paid for and ask for support.