HI,
I just bought Quad Vena II Play.
I can't connect to Roon, even are on same wifi.
The Quad Vena ii Play is an integrated amp with digital inputs. How are you connecting the amp to the Roon Core?
I don't believe that unit is Roon Ready, but could be Play-Fi ready. Play Fi is a Completely different music delivery app.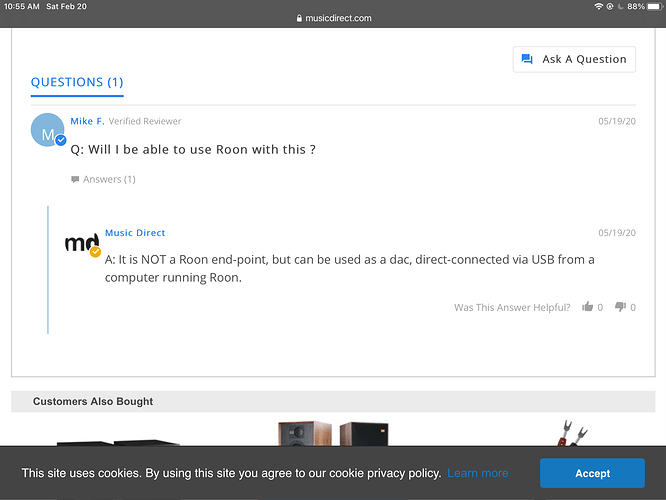 The is a snapshot of the Product page Q&A at Musicdirect.com. You would need to be connected to an endpoint or computer.
the Vena is connected by cable to home network.
The roon app is installed on macbook pro (big sur) connected to home network by wifi.
The app can see another speakers which are also connected on wifi to home network.
I think the only way you can get it to work is to use Roon on your macbook and run a USB cable to the Vena USB input. If you want to add a Roon endpoint, there are several inexpensive options. A couple of those are Sonore microrendu, Raspberry Pi unit (HiFiBerry).
No mention of Roon or DLNA even. , just DTS play
Buy A Rpi4 and add Riopeee. Plug USB to back