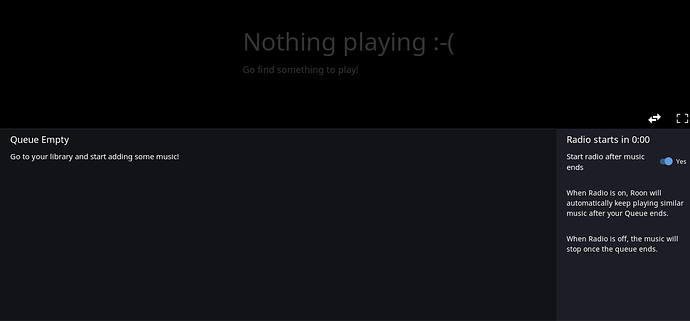 After listening to some Tidal tracks and watching the "Radio starts in #:##" display in the queue screen, I noticed the Radio didn't start. Instead, the screen changed to "Nothing playing

Go find something to play!"
How do I tell that radio will indeed start playing at the end of the current queue? Is it by seeing the display of an album cover and track in the Radio screen?
Nevermind. The question got answered as I was writing it. The "Your topic is similar to…" box appeared to the right of the forum window where I am typing this text and I found that the question has been asked and answered. This is a very cool form of artificial intelligence.
So let me finish this useless posting by saying that Roon's Radio selections can sometimes be wacky, genre hopping, non-sequiturs. But many, many times - more times than not - a great song and artist turns up that takes my music exploration in a different direction. As an example, I'm still trying to recover from a Neko Case infatuation that Roon Radio started. All good. All good.