Even after hours of searching this community I have not found a useful tip how to correct a wrongly attributed composition in an IDENTIFIED album. I have learned the trick of correcting compositon links in UNIDENTIFIED albums but not in IDENTIFIED albums.
Today's use case:
The complete Beethoven symphonies by the Berlin Philharmonic under Herbert von Karajan, recorded for DGG in the seventies. This 6 cd set also contains the usual array of overtures, most of which had already been recorded in the sixties and they are the culprits here.
The current DGG site (much less helpful than the previous one) gives this incarnation of this set:

Allmusic.com has the following:
https://www.allmusic.com/album/beethoven-9-symphonien-mw0001941428
There are two discrepancies between these two sources of information, track 5 on disc 3, and track 9 on disc 4.
Track 3-5:
Allmusic: Leonore Overture No. 2 in C major, Op. 72a
DGG: Leonore Overture No. 3 in C major, Op. 72b
Track 4-9:
Allmusic: Leonore Overture No. 3 in C major, Op. 72b
DGG: Fidelio, overture, Op. 72c: Allegro
DGG has it right, of course, as I was able to ascertain by comparing the tracks to other known and trustworthy sources.
Unfortunately Roon listens to Allmusic and not to DGG…
Roon identifies this album with a different cover and the album review refers to the 1984 Beethoven cycle instead of the one from seventies, although the performance dates and track order reveal that the album is otherwise correctly identified: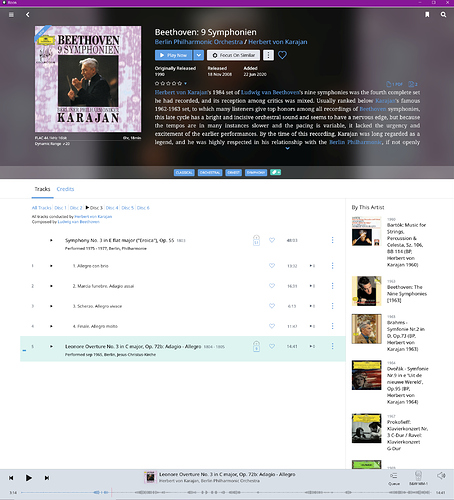 In the above screenshot the title of track 3-5 has already been corrected, but when I click on the composition link (with the figure 9 in it), I'm led to the wrong composition page: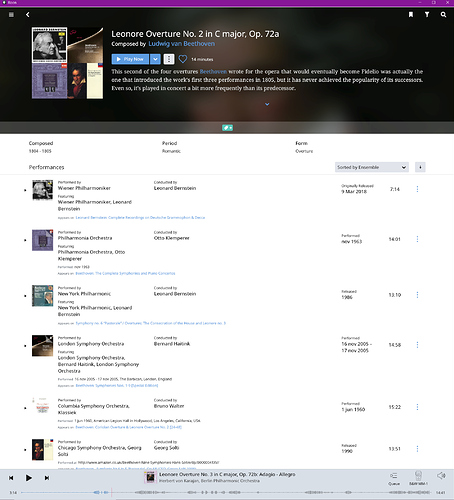 So how am I going to fix this?
In the past half year or so I have, in a number of cases, reported some of their mistakes to Allmusic on their site by submitting corrections, but I have not seen any improvements as yet. Has anyone else ever had success with Allmusic?
As it is probably impossible to re-assign a single-track composition to the correct composition within Roon, my only hope is that these mistakes will be corrected at the source.
So what's the best approach here? Submit corrections on
Allmusic.com
? Or would it be better to do it here in this community and hope that the Roon team has a little more clout and can have Allmusic / TiVo carry out the necessary changes in their database within a shorter timespan?
Please advise!
@joel
@tripleCrotchet
,
@bbrip