If you go type About into the Start menu and go to the About Your PC screen, what edition and version are you running?
Feel free to post a screenshot or PM it to me. Thanks!
Thanks for the screenshot @Jon_Leonard – can you try this one?
Let me know if that doesn't work and we'll take a deeper look. Sorry for the trouble here!
Sorry, "not applicable"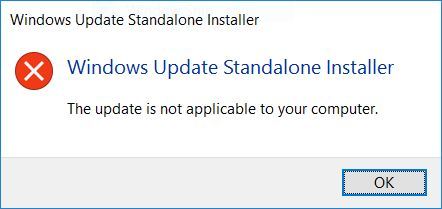 Hey @Jon_Leonard – sorry for the trouble here. This is definitely strange.
Can you give me a full rundown of your setup, as described here? Can you also confirm the Media Packs were installed on your Core machine?
This is surprising too:
Since you're running Windows 10 Enterprise N, and that operating system is supported by that Media Pack: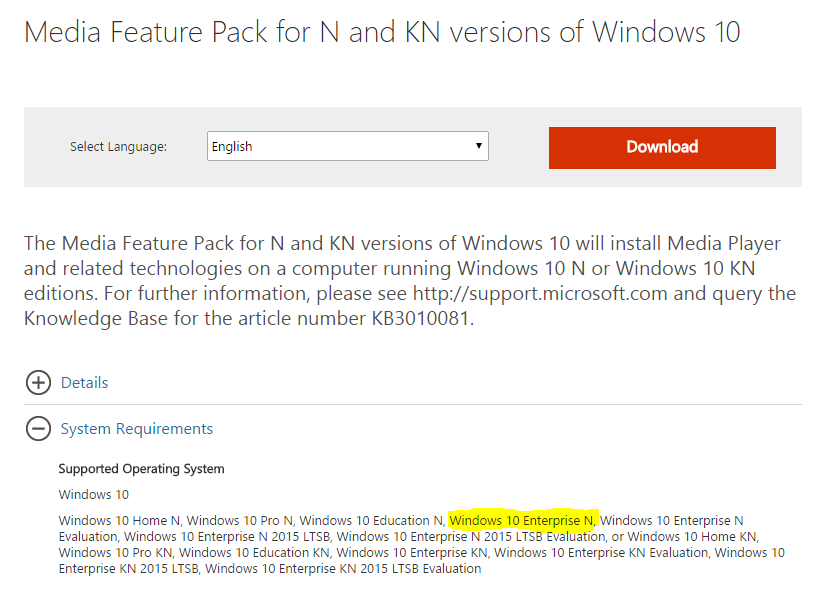 No, I'm sorry. I coulda sworn…oh, never mind. I actually hadn't installed kb3099229.
Hi @Jon_Leonard ---- Wanted to check in with your after I saw you response to @mike. Let me know the current state of things and we'll keep the ball rolling

Looking forward to your feedback!
-Eric
No, honest, it was my mistake.
hi folks,
the last update of my Windows10 N have created some problems…
now although I installed the Media Feature Pack for N editions,
this is the packege
KB3099229_x86
ROON requires yet the Audio Codecs ! and will not open!
I installed KB3099229 and rebooted, then KB3133719 and rebooted. Roon controller is running on a different Win 10 system. What else?
@Giona_Orlandi @Jon_Leonard – can you guys try the package linked in the post above mine, as well as the one I mentioned here:
If neither of those work, please confirm:
That you are installing the packages on the machine where your Roon Core runs
What you are seeing on the About Your PC screen – a screenshot would be great
Thanks!
hi, for this packager KB3133719-x64.msu or 32 version the computer tells me that it is impossible to install this package !!!
Hey @Giona_Orlandi – did you see my post above? Can you answer those two questions? Thanks!
yes Mike i have only one PC and before the upgrade all works properly, then after ROON don't start and asks the usual codecs!
Edition Windows 10 Enterprise N
Version 1703
Build SO 15063.138
see the photo
thanks
Giona
Hi @Giona_Orlandi ----- I see from your previous post you had tried installing: KB3099229_x86. Have you tried installing KB3099229_x64?
-Eric
yes Eric both packages are installed!
I repeat, before the last Windows update, ROON worked perfectly!
best regards
Giona
Hi @Giona_Orlandi ----- Thank you for touching base with me and clarifying that information. Both are appreciated!
I wanted to let you know that we are currently looking into reproducing this behavior in house and once we have conducted our testing I will be sure to update this thread immediately.
-Eric
Many thanks for your job Eric, but i have change my OS so it is no longer the N version