One of the joys of using Roon is the musical journey of discovery and appreciation that it provides. I am constantly coming across albums I would love to add to my library, but I am very often flustered when it comes to which version to listen to or add.
For example, look at this screenshot of the available versions of The Quintet: Jazz At Massey Hall.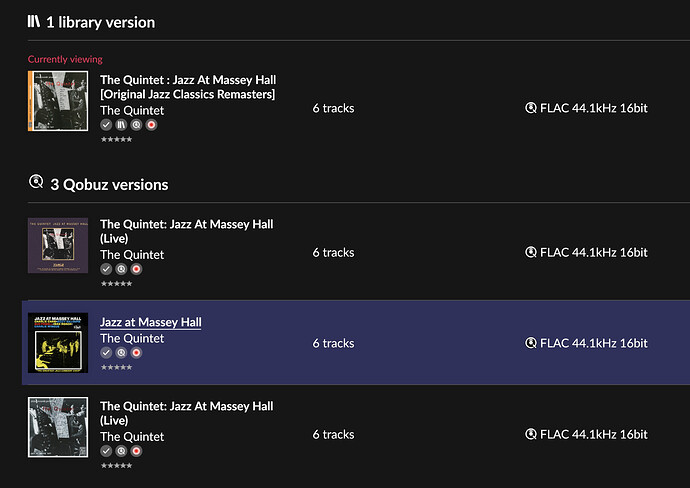 The bit rates are the same. The number of tracks are the same. They are all live (obviously). How can I determine which one I should listen to?
If I click on each one of them I can see that they have different release dates, but that is an awkward experience and the release date alone doesn't tell me very much.
I would love to have a more meaningful indication of the provenance or quality of each version. Is there such a database that Roon can already tap into and surface for us? If not, perhaps it is another crowdsourced initiative that Roon should take on.
Ideally, I would love to have a hyper-condensed version of Audiophile Style's "The Best Version of…" [which is incredible!] – that's not too much to ask is it?

Seriously, additional information about album versions would massively increase my joy of music discovery with Roon. Meanwhile, this is what Roon shows for Cat Steven's Tea for the Tillerman:

Note: I searched in the community and could not find a similar suggestion, so excuse me if this is a duplicate. In my mind, there must have been someone else who has suggested this before!