Hi,
I've been running Roon Rock very successfully for around six months now (including updating to V1.8 when it came out), but it has stopped working.
Roon Core Machine
Rock running on - Intel NUC NUC5i5MYHE i5 Core 8GB RAM 256GB SSD
Networking Gear & Setup Details
Rock is connected by ethernet cable to TP-Link AC1900 router which then connects to players via wifi.
Music storage is on a Synology NAS, also connected to same router via ethernet
Connected Audio Devices
RaspberryPi 3b running RoPieee
Squeezebox Radio
Library Size
circa 700 CD albums worth of tracks
Description of Issue
Around 2 weeks ago, Roon stopped working. The remote apps couldn't find and connect to the core anymore.
I went on to the ROCK web interface and it said/says the Operating System is OK, but Roon Database & Settings are Not Ready.
I've done the usual thing of rebooting a few times, but it hasn't worked. I've also "Reset" the Roon Database & Settings button, but it hasn't fixed the problem. Here's a screenshot: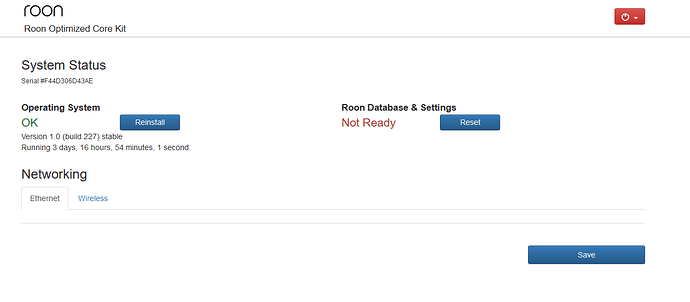 I'm hoping you can help me resolve the issue please. Thank you.