Dear Community and Support,
I am installing ROCK on a NUC7 but the installation brings following error messages, even after numerous retries: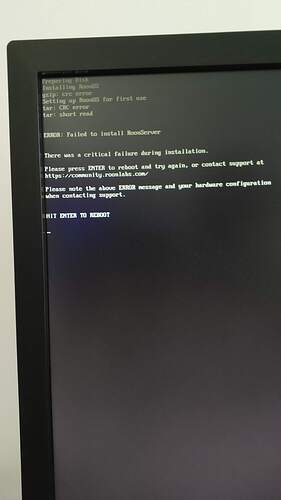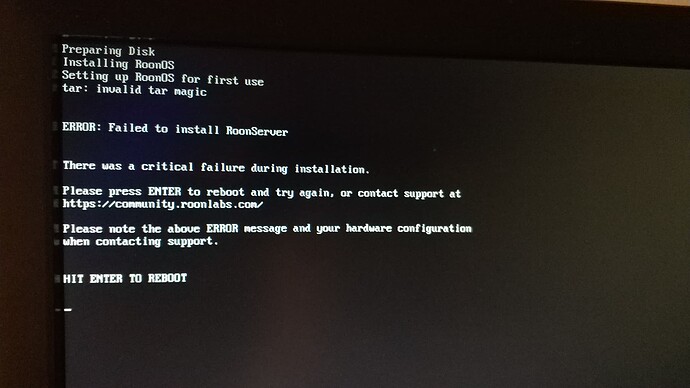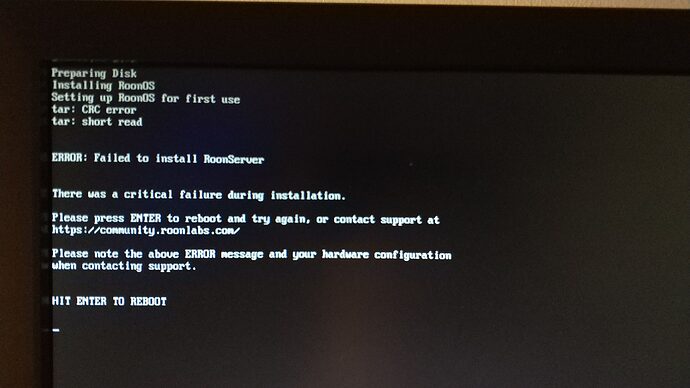 Hardware:
NUC7i3BNH
16GB RAM Crucial SO-DDR4 2133 CL15 KIT (2x8GB) (single rank) CT2K8G4SFS8213
250GB SSD SAMSUNG 960 EVO M.2 PCIe 2280 MZ-V6E250BW
Roon ROCK worked flawlessly on this NUC in 2017, but I had to repurpose the NUC for Windows usage.
Now I want to have Roon ROCK back, but it won't install on this same hardware.
I followed step by step the ROCK installation guide.
After above error message and a restart, Roon OS seems to work, web interface accessible, OS lets itself re-install. ffmpeg uploaded, but server will not start, not even after several re-boots.
What I tried:
BIOS defaulted and setup again.
SSD partitions deleted, formatted and tested, with bootable AOMEI tool
Tried two different pendrives for ROCK install image.
Several 'etching' of each pendrives with balena and rufus.
–>same result as above
What am I doing wrong?
Many thanks for your help.
David