Core Machine (Operating system/System info/Roon build number)
ROCK on NUC8i5 running latest download from ROON website
Music files in shared folder on NAS: Synology DS414j
smb share enabled
Network Details (Including networking gear model/manufacturer and if on WiFi/Ethernet)
ROCK and NAS connected via Ethernet to an Airport Extreme
Audio Devices (Specify what device you're using and its connection type - USB/HDMI/etc.)
Numerous Sonos boxes plus 2 head amps connected to IMac
Description Of Issue
ROCK is a new setup.
Prior to this was running latest version of core on iMac.
IMac Core could connect to the NAS shares without issues.
ROCK will not connect to the NAS.
When I try to add folder I get the message: Could not connect to share: Unauthorized.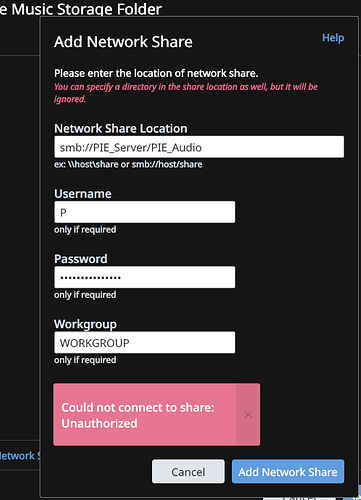 Some other points:
NAS Folders are shared
Shares are via smb
username / password when trying to connect to NAS are correct.
shares can be accessed by all other computers in the house (2 x Mac and 1 x Windows)
have tried the various options for the changing share path such as IP address / adding .local etc as per other posts in this forum.
whole system: ROCK / NAS / Router / Mac have been rebooted a bunch of times.
Anybody have any ideas? As I say, its only ROCK that will not connect to the share.
I can revert back to iMac as the core and enter the same share details and connect to the NAS without any issues.
Cheers.