Roon Core Machine
Dell optiplex 7040, Intel Core i5-6500 Processor Quad Core 3.2GHz, 16gb RAM
Networking Gear & Setup Details
Normally: Ubiquiti UniFi setup, core via Ethernet and endpoints via Ethernet & WiFi
At time of issue: Virgin Media Superhub 3 in default mode. Core and main endpoints directly connected via ethernet. Other devices and APs via an unmanaged POE switch.
Connected Audio Devices
iPhone => Dragonfly Cobalt => Sonos Fives in stereo
ATV => TV => Topping D30 DAC => Cyrus Pre Amp & Cyrus power amps/Speakers - none currently choosing next purchase
Number of Tracks in Library
Stream from Tidal
Description of Issue
Due to building work and I think a fault with the Virgin Media Superhub 3 I had to revert back to using my ISP supplied one box wonder and reset it to default modem/router/switch mode. It works but isn't great. I have disabled its internal WiFi and use my UniFi APs instead. This ISP wonder doesn't want to work in modem mode. Waiting for Virgin Media to get back to me on this as the modem section on the PCB is the same regardless of the mode you're in.
My IP range is all the same and port forwarding setup for Room Arc.
After finishing sorting my network out I opened Room Remote and and verified Room Arc was working under settings. I did not however open the Arc app.
Left work this morning and opened the Arc app to find;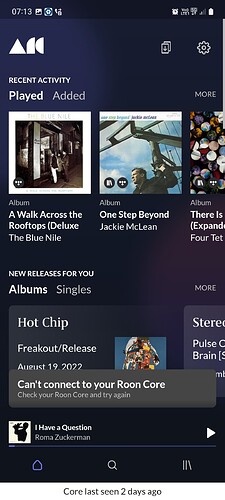 Says my Core hasn't been seen for 2 days and I also get poor network coverage. I'm on 5g and signal bars suggest good enough reception.
My question and maybe need for help is, Do you have to open the Arc app on your network after alterations to refresh it's parameters?
Thanks in advance