Roon Core Machine
ROCK build 884
Intel NUC10i5, 16GB
Networking Gear & Setup Details
MyRepublic Internet Fiber Optic 192.168.1.1
ASUS Router 192.168.2.1
Connected Audio Devices
Bricasti M5 via Ethernet cable
Number of Tracks in Library
200.000ish
Description of Issue
This morning my ISP emailed me that their fiber optic line is damaged and is being repaired.
I tried Roon but the remote on my iPad (5th generation, build 880) was frozen. I killed the Remote and reopened, but the remote was still frozen. I restarted the iPad and reopened Remote. This time I saw a small red Tidal warning saying that I could not login. I tried to close the warning by clicking on the X button, but I could not do it. The remote was still frozen.
Curious, I tried the Remote on my phone (Android, build 880). Similarly, the Tidal warning appeared but I could close it by clicking on the X button (see screenshot) and then I could use the remote and play files. Sorry, I could not upload the screenshot on my iPad since the Internet is down.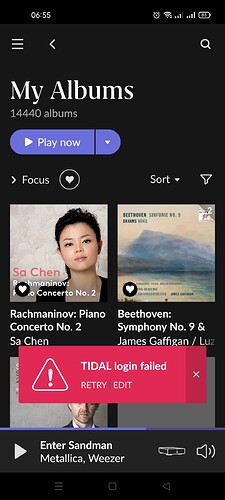 Is there any suggestion on what to do with the iPad remote when it is frozen like this?
Thank you.
Hogio