Thanks for the update.
Very impressive!
Thanks for letting MQA pass by!
Mark, I think you described the improvements correctly. Timing and spacial definition is much better in my system. I am streaming Tidal. My system is 25 -year old Mark Levinson amplification, MacBookPro for the core and Auralic Aries Mini. Upsampling to DSD 256 sounds great for me. I am listening at the moment to my favourites and have fun. Cheers.
Hmm. All this talk of "sound improvements" is a nice development. I use HQPlayer and am quite happy with the settings there. I assume any sound improvements within Roon would be bypassed using HQPlayer. Either way, this new software push is very nice! Thanks Roonies!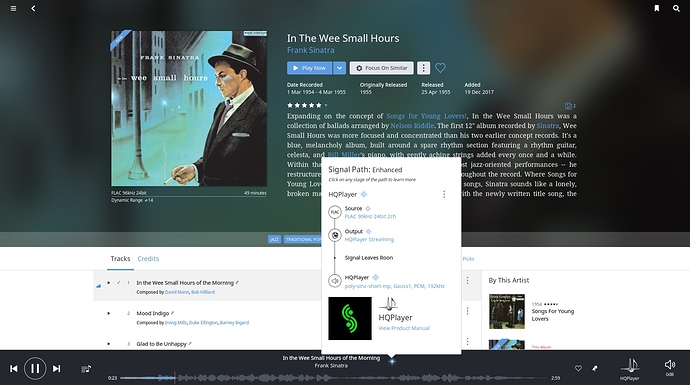 Yes must be expectation bias. It's pure placebo that you don't hear a difference because the truth is it is night and day.

Now does this mean, at least in theory that I can use my ipad as a bit perfect endpoint and feed my hi res usb dac with it. just like using a dietpi
For those with perfect and immune systems, it will make no difference.
However, for the rest of us with less than perfect systems, 1.4 brings a welcome change.
Looks like good work! I'm pleased with some of the additions (especially the iOS playback), despite none of my wishlist being addressed in this release.
The thread asks what you would have liked to have gotten. Well, my list remains as thus (and I've seen many others requesting the same):
Better box set handling/ability to add another layer of "grouping" to Roon - so that, for example, I can group all my CDs of a particular series together, tidying up the experience when browsing via album. Or, so that I can have an overall cover for a box set, and individual covers and details for the CDs within that box set. Also naming for individual CDs, rather than just Disc1, Disc2, etc.

Better album art handling - with the ability to move & edit the album art in Roon, and ideally with the ability to label the items (e.g. front cover, rear cover, media, booklet, etc) and have some way of Roon displaying what is available on the album page. Ability to order the pages of a booklet for example.

Better album organisation on the artist page, with the ability to group albums by albums, singles & EPs, collections/anthologies, bootlegs, mix albums, etc.

Ability to edit the album reviews, and to add extra reviews from sources of my choice! The artist page would have the main review as dafault, though would have an icon indicating that other reviews are present.

Ability to browse by record label in the same way that you can browse by artist or album.
These are my top 5, and I have been requesting these almost from day 1 (so for a few years). Disappointed that despite all the activity on the forums regarding these issues, they have not been addressed. However, I respect that the devs continue to work hard and will maintain faith that we will get there eventually!
I find the added definition in harmonic resonances quite thrilling in version 1.4.
Euphonic cadences are also a joy.
Thank you Roon guys and Happy Christmas.
.sjb
Yes it does sound better! Yes the new Radio is awesome.
Great work and I look forward to the New Year with Roon.
Thanks,
Bob
I'm really liking the changes in 1.4:
The new queue is great… I love being able to see what has played. I am curious as to the rationale behind collapsing skipped songs, I haven't quite figured that one out yet.
The new design and configurability of the Play button is great
The new volume control on touch screen devices is outstanding
The Zone picker is much improved
Great stuff!
Hopefully the Tidal / MQA / Non-MQA situation can be addressed next.
edit… I also really appreciate that the Roon Team is listening to subscriber feedback, implementing changes (even if they know those changes aren't perfect) and willing to tweak those changes based on additional feedback to get to a much better solution.
Not a complaint but just some friendly feedback.
I usually turn the WiFi router off in my office setup when I'm listening at the computer there. But when playing with the new Remote App I noticed something minor with Zone control on my iPhone SE.
There's only a tiny space to exit this view. Unless there's another way I missed
Just something to maybe refine in a future update?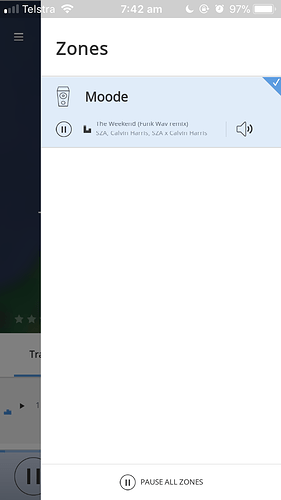 I think Mike may have already said, but they can be moved/re-queued/deleted as a single entity which makes subsequent playlist management really speedy.
Wonderful update Roon team!!! You continue to relentlessly improve. I am so please that I have a lifetime subscription!!! Have a Merry Holiday!!!
Excellent works
Well done…
Now enjoying music on my iPhone X…
The next challenge I guess will be to get Roon playing over 4g…,
Thx a lot
RoonBridge Win10 64 doesn't deal very well now with Pre Box S2 Digital WASAPI driver - it's kind of weird, It's worked out very well so far.
Radio feature is much improved. Thanks !!!
iOS as endpoint is huge, thank you very much indeed!
Now until you have implementated remote connections,
I'm gonna try to setup a VPN connection between my server and iOS devices.

Looking forward to try out the rest of the update, new radio sounds promising…
[EDIT: new radio has been spot on until now. I'm actually discovering great music from my own lib. well done!]
play a playlist with 50 tracks. then 4 songs in, stop/pause and walk away. a day later, play some random album.
the skipped 46 tracks are deemphasized because they are fundamentally less important than the upcoming album and the 4 played tracks. hit "previous track" and you will just back before all the skipped tracks and they will become upcoming now, and uncollapsed since youve elevated their importance.
Still nothing regarding a dedicated "Now Playing" screen for my 75 inch TV ??
Can't be that hard surely ?