Yep if always had this since 1.6 it's the same in the latest no improvement.
Periodically I start up Roon hoping that the Display will show cover art large enough to read, composer information, and year. No joy in Build 416.
A new update, still the very ugly, highly distracting, terrible visibility slab of grey-blue footer in the light theme. I can only hope it is a trendy colour and trends disappear eventually so hopefully one day it is going to change to something less distracting, prettier looking and above all with better visibilty.
Initial impressions had been positive and the Android application is much more fluid. Sadly still running into slow search results. Have updated my support ticket with findings.
The only problem I have is that the volume slider no longer functions as it did pre-update!
If I wanted artist pics, I think that I'd want heads.
In any case, it would be lovely to have the ability to select a display theme in which the album art is readable across the room.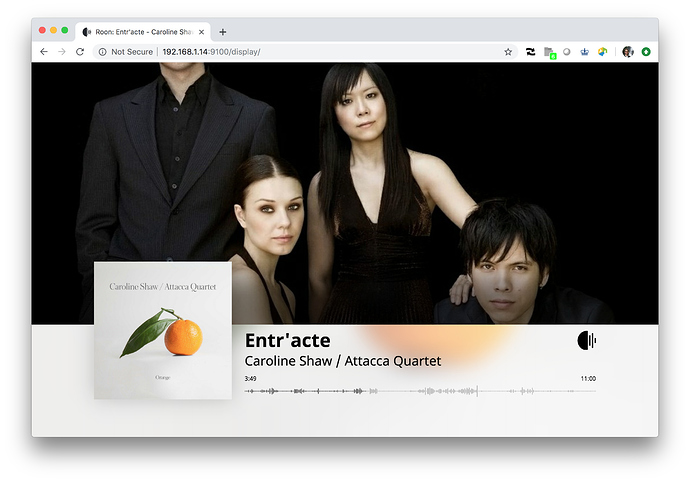 I think your feedback would be more appropriate in the Displays thread: Build 354 - Displays Feedback
Unless I missed some update to Displays?
I agree with your feedback though. Maybe they will offer an option similar to the desktop software.
The new release fixed the search slowdowns I was intermittently experiencing under 1.6–or, at least, they haven't reappeared yet. Any more details on the problem and the fix? Enquiring minds want to know!
Please give us possibility to disable: Artists photos rotate if track has more than one performer
Performance on the iPad seems much better - quicker to load, and not getting stuck on the jellyfish screen like I used to quite often.
I didn't think search was particularly slow, but with the new update I'm finding it's super quick. Also getting much fewer dropouts to one endpoint that's been having issues - but that may also be a few other tweaks I made to the endpoint (Raspberry Pi).
I don't quite get how and when the multiple-artist image thing happens, but I do like it.
Android app still crashes when turning off display with roon app in the foreground (Samsung S8). Any chance to get this fixed in the near future?
Thanks.
ok, a couple of days later… search speed is back to usual (1-2 seconds)

Anything for Chromebook running Android in the works???
Much snappier now. well done. Tks.
Jorge
Radio does not automaticallay start playing when album finishes.
"Add to library" is much snappier now on my Android phone (HTC 10). Well done!