I think there's an issue with the search service at the moment. The support team is investigating:

I see. Thanks for the Info. It is generally slower after the update. But I hope it will be better.
Thanks again.
My impression is a little different. Sometimes it's really fast (searches for "Miles Davis" or "Simon Rattle" only take about a second) and sometimes it's really slow (up to 30 seconds for the same searches).
Prior to update it was instant. Now I find it variable as above. Sometimes I reboot thinking that helps.
I have gotten used to searching on artist name va scrolling by artist and selecting artist.
This morning everything works extremely fast. Fingers crossed…
I'm reposting those precise paragraphs that I'm allowed to repost in this thread according to the explicit instructions of the moderator (those instructions were included by the moderator in the new thread):
I'm only hoping that the designers will realize that we don't need both a thumbnail in the lower left, and a large album cover above it. The common sense decision will be to eliminate the thumbnail on that particular page or view, move everything as far down the page as practical (such as the row of icons) and thereby leave as much room as possible for the largest possible illustration of the album cover. We hardly need both a thumbnail and an album cover on the same page or view. That would be the software equivalent of a complete oxymoron.
Like Charles, I'm hoping that see a better balance for overall user design, and Roon can once again deserve the description that I applied and originated, in the thread "Why Roon is fabulous, with or without Tidal."
As to when all of this will happen, I always assumed it would take at least 45 to 60 days. Roon is not known for being quick when it comes to software releases. The notes on the new features of 1.6 were posted 27 days ago as of the date I'm posting this. So we all might as well be patient. I'd be delighted to be proven wrong on that, however.
Better a stable 1.7 than the buggy 1.6. Let's hope they'll test it as long as it need.

About the latest Build 401 release. Thank you for bringing back the old style waveform, much better. But there's small bug with it, the waveform overlaps with the Zone name. See attached screenshot.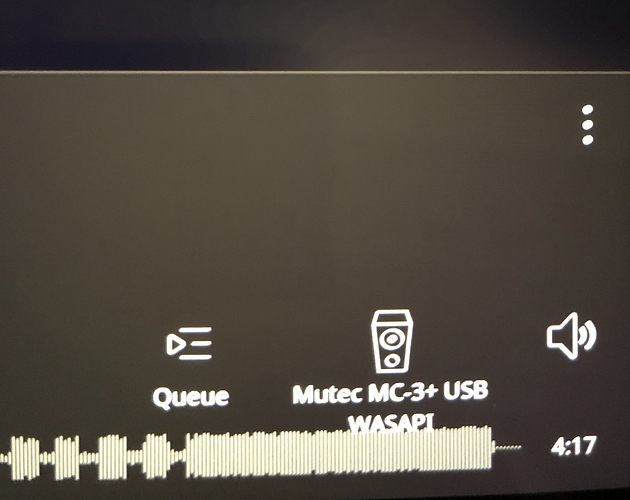 Thanks
Yes! The new build now playing screen is much much better! Thank you Roon team!
Was hoping for even larger album art but can't always get what you want.
MUCH better Now Playing screen with less wasted space - just looks so much cleaner.


Yeah we caught that just a few days ago – too late for this release, but already tracked in a ticket.
We'll get that fixed soon. Thanks!
Thanks Roon! The now playing screen with album art is wonderful. Much appreciated!!
Thanks mike, otherwise great job, as usual.
I like the design changes on now playing screen but I found it handy that i was able to swipe through the pages. Now they need to be selected from the upper right corner.
Re. 1.6.401
Thank you, thank you, thank you!
Rounded rectangles for artist search results!
Nice delineation from the album results.
A surprising, aesthetically successful compromise. Good skills, and a better overall results layout.
Much thanks to the Roon team for a much-improved Now Playing screen! Kudos!
That's much better. All the changes are an improvement.