hhhhmmmm… I noticed it while browsing my library (sorted by date added)
Happy to see Quobuz arrival. Now I think all I need is an easy way to convert my Tidal favourites to Quobuz ones.
Can I do this in Roon in a clever way?
Thanks,
Achim
Give it a few weeks; I'm fairly sure you will like it

Not at the moment. Soundiiz a 3rd party app can do it as well as playlists.
If I use Focus in the Album Browser, and select only Qobuz format, then I only see the Qobuz albums that will be streamed; albums purchased from Qobuz and stored locally are not shown in this view…
Always good to see updates.
I don't use qobuz, don't tend to use Roon radio, and don't really use the "now playing" screen that much. I tend to browse my music, hit play and listen. I do understand however that the Roon team will be going for the "biggest bang for the buck" updates and improvements.
My main feedback is therefore the same as usual - I'm sure these new additions are pleasing many users, though I remain keen on improvements to the basic Roon interface, organisation and categorisation. My main requests are still better box set handling/the ability to combine albums into groups, the ability to group albums on an artist's page (by albums, singles & EPs, bootlegs, anthologies, compilations, etc), better album art handling (move or delete images, label images, improved overview of the available images) and the ability to add reviews or extra reviews to albums.
So from my perspective, the only practical thing I can say about this update is that I don't like the new waveform seekbar - it's now a big grey block which doesn't fit nicely with the rest of the interface (at least in dark mode, which is what I use), and I don't like the waveform itself being cut in half, showing only the top half. I would rather see the whole thing, even if it is symmetrical. Indeed, one of my requests has been an improvement to the current rather low-res waveform seekbar to something more detailed (as seen with Foobar, for example). Oh, there is one good thing - the screen real estate on the iPad app is now optimised for iPad pro and it supports portrait mode! However - it doesn't seem to do the "upside down" view like most iOS apps do?
I don't mean to sound negative - Roon remains the best app of its kind out there - it's just that there has been update after update with various improvements in terms of third party features (qobuz, various endpoints supports, etc) though with little of the promised "UI overhaul" that we had heard about and no implementation of the features requested above, which have been hot topics on the forums for some years now (the box set/group handling and album categorisation in particular).
I remain hopeful however, and am encouraged by the Roon team's statement that All of these changes are just the start of what we expect to be Roon's biggest year yet. It's going to be a great year for music lovers, and we're just getting started.
Same issue for me, I'm using Q = 18, and the line is off the screen.
let's wait for an insight from developers

I don't like the lightgrey playback control / progress bar either. Talking about the Light UI version here. It's colour is too light making less of a seperation between the browsing functionality and playback controls. This makes the whole pages a bit crowdy and messy. Maybe it's time for a request for custom colours again.
Is it just me or is the whole interface becoming pretty bloated and harder to navigate.
Hello there
Not really a huge fine of the new footer:

Too many empty spaces
Button should be bigger
The wave is too small, it should be bigger
No "heart" button, I need to click on the album cover to find it (+ one click, horrible)
should be a bit darker
view files info should be integrated in the configure Now Playing screen
apart from that, good job!
Great job. Excellent to have Qobuz integtrated and I like the new Radio and search functions.
I did notice a couple of issues with Qobuz:
There is an error(?) on the album counts. Roon is taking Qobuz purchases and adding them to the library, but as I have previously downloaded the tracks I bought from Qobuz it is double counting them on the overview screen, but not on the Albums screen. Maybe this is by design and I've not noticed before as I never had any duplicate Tidal and also purchased albums.

There are missing Albums from the My Qobuz/Purchases. One album is missing from the 5 I have bought on Qobuz.
I still think the Overview screen needs a lot of work. It is the entry point to Roon and it is ugly. Maybe this is something for the future…
A couple of other comments, no big deal…
Why does the Now Playing screen default to lyrics? The lyrics don;t move with the music, so it's a bit odd to see it there as the starting point.
The grey on the Now Playing screen doesn't fit well with dark theme
Thank you - I am reluctant to share my credentials with a third party…
Totally agree on the use of the real estate and specially on the colour. Makes the whole screen look messy don't you think?
I see (and already reported) the very same
but… I'm browsing my library in Album view (sorted by "Date Added") and most (if not all, can't really tell as I have many -> 100s) of my Qobuz purchases are there, marked as new and added today.
Local copies (downloaded time ago) are showing as (independent) duplicates

Very excited to read about the update this morning. However, no update available on AppStore for my iPad. So I cannot use Roon at all.
I am in US.
"Good" thing is I have to go to work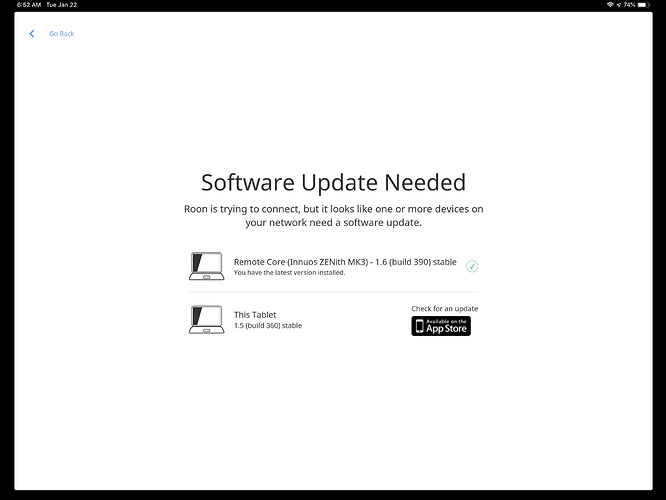 Yes, I had one duplicate , but that is because I had previously edited the metadata for that album… What i did was delete the album from the file location (Not Roon and after having backed it up to another location). Then cleaned up my library in Roon. When I added the album back to the file location , the duplicate issue was gone and Roon recognised my local and Qobuz album as the same one and only shows it once.
Still counts them as 2 albums on the Overview screen though, but not the albums screen.
… can't try it here: it would take ages

(my) only hope is… developers coming out with a fix
Could you not delete all Qobuz purchases - move them to a different file location and then clean the Roon Library? Then add all the files back to the Roon file location?
Unfortunately, I think the identification of your Qobuz purchases has to be a manual process. You can view all your purchases in Roon - but you can't export that to an Excel spreadsheet, so it gets a bit laborious…