Well, it seems that the missing recommended albums and library discography concern I cited earlier must have been a temporary glitch as a result of the Roon servers being overloaded. Now, when I scroll down from the album track listing I see a Selected discography section followed by a Recommended albums section. Perfect!
There are always gitches on the release of any new software, but I have to say that Roon has exceeded my expectations with this one. The new UI may not initially please everyone, but give it time. Pretty sure it'll grow on you.
These Android UI elements look like they have literally been thrown at the screen and fortunately I find it all looks a little amateurish compared to 1.7… which is a shame as I'm sure lots of people worked very hard on this release.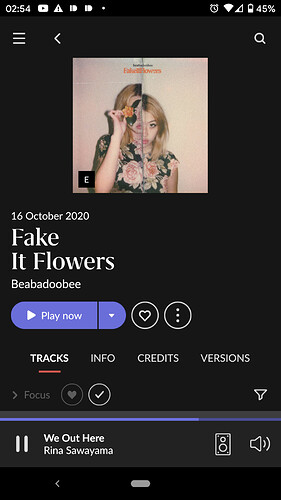 Overall very good. Performance much better. My only nit-pick is the font for the title of albums. Certainly a bold choice but my personal preference would be for something a little more subtle that draws less attention. But it is one of those things where you'll never please everyone.
I am getting the same error, roon radio is not working… says its limited to library.
Too long of a thread to see if others are getting it too.
It's there in the iPad app. Settings > General > Customize album display > Edit.
The star rating from AllMusic is gone and can now only be seen when you click each album, which is tedious and a downgrade from the previous version. Is there a way to either bring the stars back, or (a better option)to be able to sort by AllMusic's star rating? It is extremely helpful for figuring out where to begin with a new artist discovery.
I actually quite like the Android UI, just wish it could output audio properly on DAPs with a quality DAC rather than resampling everything and sending it through OpenSL
I mistakenly deleted my previous post. Roon Radio is also not working for me, I am getting an error saying its limited to library and nothing will play next (although a song is, in theory, there to play).
Overall the GUI looks good though, no issues there.
I posted earlier with the same issue. Looks like it is a wider problem so I expect it will get addressed by Roon.
Oh, I was able to find a link to all tracks by artist in the artist page.
They can move the que list button back to the big empty space where it once was too…
Personally I think it's a great update. Sure, there's one or two issues to be worked out like the white flash that appears on iOS when switching apps, but overall I think it's a great job.
It's a mess. And not consistent. Klick more and that info vanish. Put me up for beta tester next time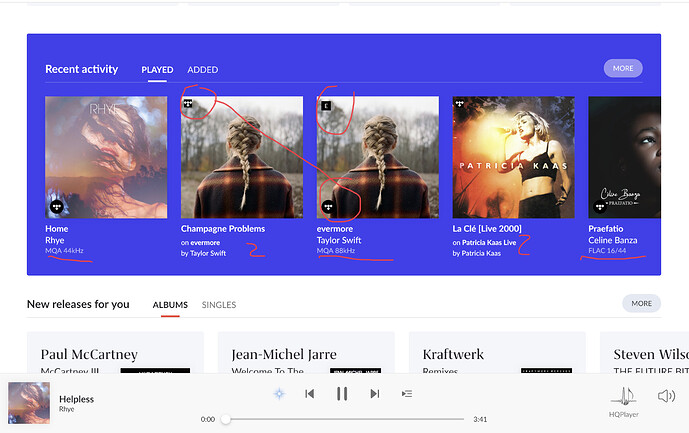 Happy to report a seamless upgrade process and Roon itself seems to be working fine - NUC Rock, iMac 5K & iPad 12.9 Remotes, RoPieee and Node2i endpoints.
But not so happy with what it has upgraded too. I agree with waveform display, ratings (especially) and other issues that many have raised which can presumably be fixed. But the whole design is targeted at portrait tablets and this is a real concern. Apart from the huge album art it looks OK on the iPad in portrait although bad in landscape. On the desktop there is just so much wasted space and those huge images, it would be nice to see more than a handful of albums on a 5K display. A scrolling display is welcome but only if it is smooth which it certainly isn't on the iPad or the iMac. Not sure how much is underlying Apple graphics drivers and how much is Roon, there is certainly an element of delay fetching images. Hopefully caching can be improved or perhaps the database is still upgrading in the background.
I miss the look of the old Focus, functionality may be improved but having to scroll sideways forever is tiresome. A reset button would be nice too.
Well done on the install and I like many of the ideas 1.8 incorporates but please make more intelligent use of display real estate.
small detail for QA… when you press the 3 dots on a selection, and go to ADD to PLAYLIST, the playlist that you had previously added to was defaulted to be top of the stack…that is missing now and should be slipped back in. It is a subtle and useful feature. thanks.