So far so good and search is way faster.
Android app don`t find cernel or show as player. Br
Sorry it is finding the core but can`t connect. Br
Maybe reboot the Core.
Android and iPad both connecting and playing lovely here.
Anroid 7 and 8 still not working. Win frewall turned off. Br
Has the Android app been updated to build 935? Still waiting on IOS.
Note: I said build 935, not build 936.
Working on android 7 phone but not on android 7 and 8 tablet. Br
It would appear that something got stuck on the deployment. Existing linux cores should auto-update or provide a download and install option via the Settings → About screen. The images on the main download site have been updated just now.
My Linux core updated from settings: about with zero issues
B936, Droid phone on b935.
All looking good.
936 is causing Roon to crash at start 3 out of 10 times on my Mac Studio M1 Max running macOS 12.3.1. Crashes have been happening since I got the Mac Studio but with 936 are more frequent. No crashes while playing, though.
I am confused as to what the latest builds are since there have been so many in the last few days.
The release notes for build 936 say that build 935 is rolling out now with no update to iOS. I assume the mention of 935 here is a typo?
Roon 1.8 (Build 936) Release Notes
Roon Build 935 is now rolling out for macOS, Windows, Windows (64 Bit), Roon OS, and Linux.
There is no update for the Roon iOS or Android apps at this time.
The release notes for build 935 say
Roon 1.8 (Build 935) Release Notes
Roon Build 935 is now rolling out for macOS, Windows, Windows (64 Bit), Roon OS, and Linux.
Updated versions of Roon for Android and iOS have been submitted to their respective App Stores and will be available soon.
The latest version in the Apple store for the iPad is still 933 and it says that was released 4 days ago.
What should I be running to eliminate all the latest bugs is it 936 for a server or remote on a pc or Mac and 935 on tablets and phones and are we still waiting for the app store to catch up?
The issue with the Windows client not responding when maximizing the client is still occurring. It doesn't crash now but it will stay not responding for a good 2 - 3 minutes.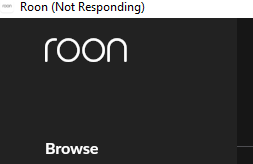 Enough of these crappy fixes… Make sure each release is good for at least six months of duty BEFORE RELEASE!
I'm sick of updating, this is back to the olden days of Windows, which was a good reason to leave the infrastructure.
Still no update to ios in appstore for build 335 and now there is a build 336?
Well,
I'm loosing faith in roon…
Every morning a new update.
Glad not to be a lifetimer

Apple seems to be taking forever. Roon issued build 936 to solve a significant problem. There is no IOS update for 936, but we are all waiting for Apple to issue 935.
I think we want quality assurance, beta testing, less errors and so less fixes…
It's becoming like Plexs development cycle and all the issues that brings. I guess you can't win in software dev, devil if you don't devil if you do.
A personal reflection;
For one to appreciate a fix you would have had to experience an issue. I don't experience the issues mentioned recently or think it's the end of the world that the "back button" on Genre page doesn't work under rather certain circumstance. I could even live the stuttering view on the Albums page for six months rather than have it fixed for two weeks and then reintroduced for another month again. This is affecting mine and others confidence in Roon and causing second thoughts when introducing more clients. (I'm actually a lot less inclined to recommend Roon today than i was 3 years ago)
And rather than haste a release which fix this issue (and most often introduce three others) i would like to see quality releases. And less new gadgets like Valence which has made a mess of the visual experience of Roon imo.
Of course i realise that there are people experiencing issues, but perhaps thats a sign that tells the Roon crew that it's time to actually limit the expansion of supported platforms, brands and network scenarios. And make sure that support has the resources to solve issues within a reasonable time span. And to be honest, this community based support really doesn't cut it for a software with a price tag like Roon's…