I have experienced the same, very odd. I will try rebooting a few times, and see what happens
Got an issue on my DietPi too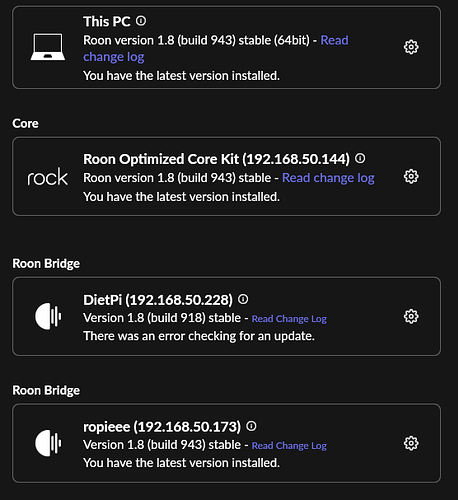 EDIT: Updated DietPi to the latest version. Now it's working. You guys maybe should check which version you're on. If you run Roon Bridge on DietPi that is.
Yes I had the issue a year ago or so, some old versions of DietPi prevented Roon Bridge from updating correctly. Yesterday's update went smoothly on my "old" DietPI 7.4.2 .
Am I the only one who lost playlist links with this build?
Looks like my hair is growing after 918. Had issues with the 800 series…
All playlists reported for duty here
No, that was the first thing I checked.
I still have playlists, I just don't seem them referenced in the tracks that comprise them…
macOS Monterey 12.0.1. No crash when selecting the "Settings" menu or any other menu (Extensions, About, etc). Works perfectly.
Update was smooth and flawless for me, Qnap TVS471 16GB Ram iPad Pro for control.
Seems to be more with advanced setups where people are using core on a server and controller device separate. Many have the issue, and it is a huge issue.
@Randy_Myers my core is on a truenas server, running on Debian 5.10.0-13-amd64 under BHYVE 1.0, have installed clients across 6 Apple devices and now 1 windows device and have yet to experience this problem.
I do hope you can get it sorted though.
It worked fine for me until one hours ago. Don't jinx it for you

@RBO I have likely just jinxed myself then.
Ha! Is it crashing for you now?
No, but if you say it was fine for a bit and then it started it will no doubt be a matter of time for me too.

@Randy_Myers , I am not running Core on the Mac. Only Remote. Good point.
@Carl-Ivar_Tornqvist , it's also an easy fix to uninstall/reinstall Bridge on DietPi, considering how infrequently Roon updates it. I had an issue on a Pi 3B+; all my Pi 4B's updated as expected. Reinstalled bridge on the 3B+, and I'm good to go.