Dear Sir,
There are a few issues with the latest Roon 1.8:
When Roon Radio is working, the tracks it picks seem to be mostly random rather than closely related to the previous track's genre. It's cueing up Michael Bolton (pop, adult contemporary) Japanese Pop and Cantonese Pop titles after Coldplay (alternative, adult alternative):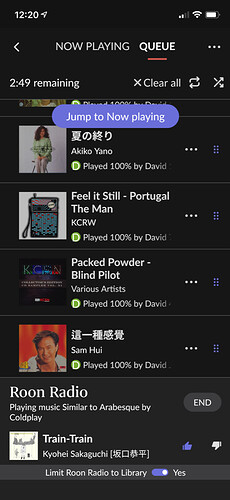 Display is not scaled properly for 10.5" iPad Pro in landscape mode, part of the frame is cut off, see the "End" button on lower right part of screen:


Text fonts are too large for tracks and certain titles for iPhone, album artwork seems to be smaller than before.

The dark blue text font is difficult to read in "Dark Mode"

Metadata for classical music is still very lacking, no metadata for Classical Periods (Baroque, Romantic, …, etc.) and sub Genre and Forms.

Many useful features and sub-genres are buried under layers of sub manuals instead of easy pulldown selections.

Artist page pull down alphabetical manual is now missing, much more convenient than have to hold down the scroll bar.

Play statistics take up large area on the home page. It's interesting information but not that important to have it on the home page every time I open the App, while more useful features and album listings are buried under sub manuals.

Still no user editable album reviews or additional music genre classifications.
All devices are on the same network:
Roon Core:
Roon Nucleus+ 4TB SSD
OS 1.0 (build 227), Server 1.8 (build 756)
Endpoints:
Devialet D250 PRO v.13.1
Meridian: 218 (3u), MS600, Control 15 (2u)
AppleTV 4K (2u)
Airport Express (2u)
iMac 5K
Others:
Meridian Core on QNAP
Crestron Pro2 Controller
Crestron CNX-PAD8 (Audio Matrix Switch)
Crestron MT-MC2W Controller
Networking:
Netgear Cable Modem (Cox Gigablast up to 1Gb/s)
Apple Airport Time Capsule (latest FW)
Peakedge SE26 24 port GigE Switch
Netgear 16 port GigE Switch
Linksys 4 port GigE Switch