I completely agree with you. I wish I wouldn't have had to go through all of that.
Several people are concerned about duplicates being added if you can't see if the track is there.
This applies to playlists, a playlist is an ordered sequence of tracks and can certainly have duplicates.
But tags do not get duplicates. A tag is a categorization.
Thanks for that Anders, it is quite helpful


I tried it just now and I can indeed see that if I add the same track direclty to a Tag then duplicates are avoided. This certainly helps as duplicates are avoided. The issue with not knowing where a track is categoriesed (in case of Tags and playlists) remains. This means that re-categorising tracks remains a challenge (e.g. if I want to remove some tracks from a range of tags and then create a new categorisation).
Another thought I had was to replace playlists with Tags so as to take advantage of what you mention (avoiding duplicates). This could work but I ran into a different problem. Playlists display tracks in a space efficient manner:

Tags show tracks in this way: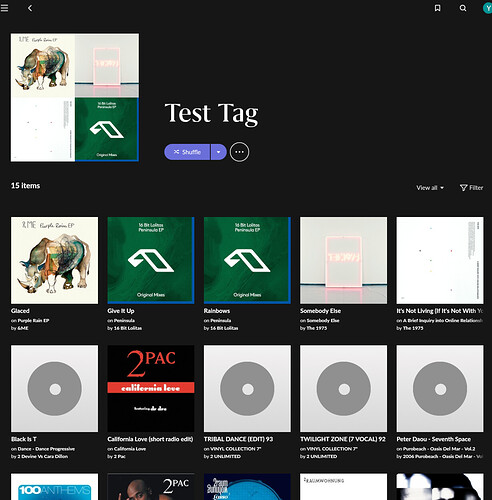 As displayed above, scrolling through hunderds of tracks is unfortunately a challenge when using Tags, especially when using a phone or even a tablet. Playlists are much better for that but they suffer from the above issues.
Still, the tags may be a better compromise to avoid duplicates (as long as I never try to recategorise or change tags). The other limitation with using Tags directly is that they don't offer sorting of tracks (e.g. via playcount) as playlists do. Bookmarks would have to be created for every single Tag in order to achieve this but then we would run into another problem: bookmarks are not sorted and their display is a bit limited in space.
I held back from the 1.8 update as it was clear the GUI was being massively revised, and alarm bells sounded when the promo video mentioned "museums" as a design influence. While I could live with some of the design regressions that have been reported by many users, the omission of the playlist info at the track level would be a massive step back, as it's such a cool feature. For now I have to be careful that no-one accidentally updates my iPad to the 1.8 app, as the downsides of 1.8 seem greatly to outweigh the benefits.
Yes. Albums show tags, but tracks do not.
I can see the problem, even though I never use tracks or playlists myself.
Wrt the differences between tags, playlists, genres, queue and other groupings: computer guys pay a lot of attention to these differences and choices are carefully made, a playlist obviously has to be ordered and a tag obviously should not. So if you choose the wrong type things will become ordered.
I hope you get back some way of seeing track membership from the track listing.
We are going to do something to walk this change back and restore the functionality.
We have not made a final decision on what it will look like exactly, but we've read this thread and considered the use cases discussed here and they will be taken into account when designing it.
It shouldn't take a very long time. 1.8 has been launched barely three days–we are just recovering from launch aftermath. It takes the community a couple of days to identify the high-profile stuff and get us the information we need to address any major issues in a satisfactory way. We were able to plan out a followup release last night, and design work has been happening in parallel. After that, development, QA, app store approval, etc. This is a top priority and we are listening. It will be out as soon as possible. We appreciate your patience.
Thanks Brian, much appreciated.
That's really good to hear, thanks for the follow-up on this!
Thank you. I'm really enjoying the new 1.8. Lots of fun things to explore. This tag issue just happens to be critically important to me and how I use Roon. Thanks for addressing.
Good to hear this.
Thanks for listening and acting on it.
Thanks @brian
Though a little concerned where you were going with it good tohear it's not all in stone. Just don't forget the power users - we're your biggest evangelists.
That is great news Brian! Thank you for letting us know so we no longer have to wonder. I very much appreciate that. My suggestions would be to put them back just how they were, but remove the "Tags" text that prepends the tags shown there. Others may no like that though but I wanted to throw that out there
Of course you guys could always add star-ratings at the track level as a permanent feature that will read from our files' star-ratings tags. That would be killing multiple very disliked birds with one amazing stone

Thanks again
Thanks Brian, but please fix the other problem which is that playlists can no longer be edited. I usually add several tracks to, for example, 'Singles 1967' with the intention of visiting the playlist later to sort them into the desired order. I can no longer move the tracks around the list. The tracks in each playlist also need to be numbered.
@brian just curious why the decision to remove the tags & playlist functionality?
Or even more simple: just one integer field from 1 to 100 for albums and tracks.
Thanks for this good news! We're waiting.
You can reorder the tracks in a playlist. I couldn't find it either. Grab the 6 dots on the left of a track with the mouse (on Windows, anyway) and you can move the track up or down the list. I could've sworn I tried that, but then a forum member told me to try it and sure enough it worked.
1-100? 1-5 or 1-10 seems like it would work better, no?
Thank you Brian. The playlists and track tags are really indispensable to how I use Roon. That why I and others have been freaking out! I do like the new UI, it's next level, a nice upgrade.You guys clearly worked hard.
We don't need to get into why such a key feature was abruptly removed. If it's restored all is forgiven

Excellent! Thanks, @brian, it's reassuring to have you acknowledge that you hear us and are planning a way forward to restore this functionality. I no longer feel the same strong impulse to keep yapping like a terrified little dog.
The 1.8 release was clearly a massive undertaking, and I'm sorry some of us had trouble appreciating a lot of the positive stuff because it was eclipsed by the loss of some relatively unsexy but essential functionality we use every day.