Roon Core Machine
My Roon Core is docker based (using steefdebruijn/docker-roonserver:latest as docker image)
Networking Gear & Setup Details
The docker host machine (Linux) is on Ethernet to router, and my Mac (on MacOS 12.6) is connected to the local net via Wi-Fi 6.
Connected Audio Devices
I use Dragonfly Cobalt (Roon tested USB DAC) as audio device.
Number of Tracks in Library
I have 16447 tracks.
Description of Issue
I use Dragonfly Cobalt (Roon tested) as audio device.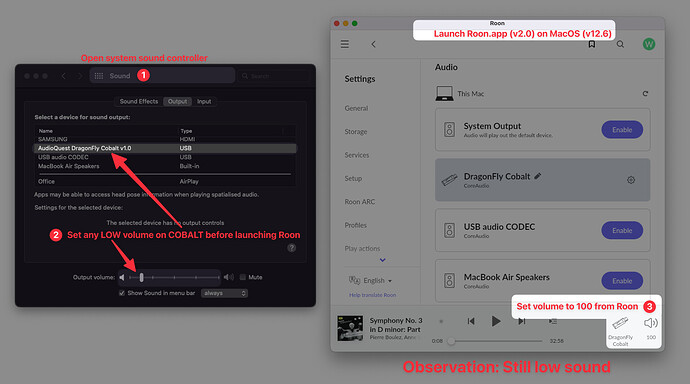 Before opening Roon

MacOS uses Cobalt as audio device.
I set the sound volume to about 10% on MacOS.

After opening Roon

Roon takes over Cobalt as audio device (exclusive mode)
I then try to adjust the sound volume in Roon.

Observations:

Even I set the volume to 100 in Roon. Cobalt still outputs low volume to my headphone.

Recall : When Cobalt is in exclusive usage in Roon, I cannot control sound volume from MacOS native controller. However, it seems that Roon has exclusive but not full control of this audio device (Cobalt) at least no full control in terms of sound volume.

Current solution:

Pause the music (wait about 10 second so that Cobalt is released form Roon exclusive mode)
Switch MacOS output to Cobalt
Set volume to 100 in MacOS Sound controller
Get back to Roon
adjust volume in Roon
start listenning.
My comment: My current solution is very inconvenient because after closing Roon I shall never forget to re-adjust the system volume (in MacOS Sound controller) from 100% back to an affordable sound level before any other use. However, my bad memory always surprises me.
Summary: After upgrading to Roon 2.0, Roon is unable to fully control the sound volume on Dragonfly Cobalt
Is this a normal behaviour? I don't thing this issue has been existing before Roon 2.0 update.