Core Machine (Operating system/System info/Roon build number)
macOS 11.3 beta2
Network Details (Including networking gear model/manufacturer and if on WiFi/Ethernet)
Cisco Switch 1GB
Audio Devices (Specify what device you're using and its connection type - USB/HDMI/etc.)
macs, iPhones, iPads
Description Of Issue
I would really like to love Roon.
I have a pretty big AppleMusic library (100K songs).
Everything is stored in an external 2GB SSD called "Música".
So I set the Storage Preferences on Roon like this…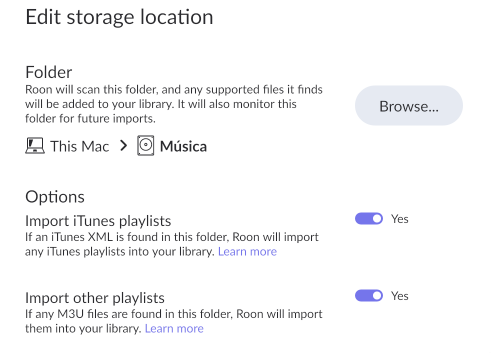 Following some advices I saw here I exported my Apple Music XML files and putted in the root of the disk.
But…
No matter what I do Roon recollects information only about 4018 tracks.
I've to say that I still in my trial period before my subscription start.
¿Is there any limitations on trial period?