How do you set it up?
The Lighting App is showing 3.0 installed (I didn't do it).
What's the next setup?
Hi Ho,
Once you've setup the Aries on the same network as the Roon Core, that's it ! Look in the Networked section of the Audio tab and you should see your Aries, patiently waiting to be sent some music.
Album playback was selected in Lightning DS for me, but I don't know if that's necessary. The next version of Lightning DS may have an additional icon for RAAT playback (I don't know - pure speculation).
Just a word of warning for those using HQP and a Vega DAC (may apply to other DACs not sure). Remember that if you are connecting to HQP by USB and the Aries by some other connection, then when you change inputs on the Vega away from USB both Roon and HQP will lose the USB connection. One consequence is that any NAA connecting by USB to the DAC will no longer show as a device in HQP.
But fear not ! If you want to change zones from the Aries to HQP just remember to change the DAC input back to USB first and then check HQP and change zones in Roon last.
Cheers and happy listening through the Aries.
Thanks!
Just rebooted the Aries (exit button, 7 secs) and it appeared.
Not noticing a loss of SQ vs playing from the Auralic Aries' hdd.
I was using Airplay and saw this new thread and felt i must also try it - just stopped it - started Roon again ' the networked Aries already appeared in "audio " tab , enabled it and gave a new name in the zone as " Aries1" . When istarted playing it was on the networked "Roon" ready - the light turned purple from green and shows the RAAT .
I made it - so happy !
Are you saying you're playing a selection from Roon through the Aries? I have Aries showing in my audio settings but haven't figured out how to stream with Roon on my Samsung tab.
Hi Richard,
Just select the Aries using the zone icon (lower right of the footer, to the left of the volume icon) and play some music.
I tried that but it didn't work at first. Then I went into the audio tab under settings, disabled the 'Built-In Output', which kicked me out of Roon. I restarted the app, selected Aries as default and voilà, I can play music.

Finally, it works!! It was indeed the firewall. I had to turn it off, restart twice (no clue why) and set Roon, but now it's working, see pic. Thanks! Well, time for a manual update


A happy user, because I love the programm.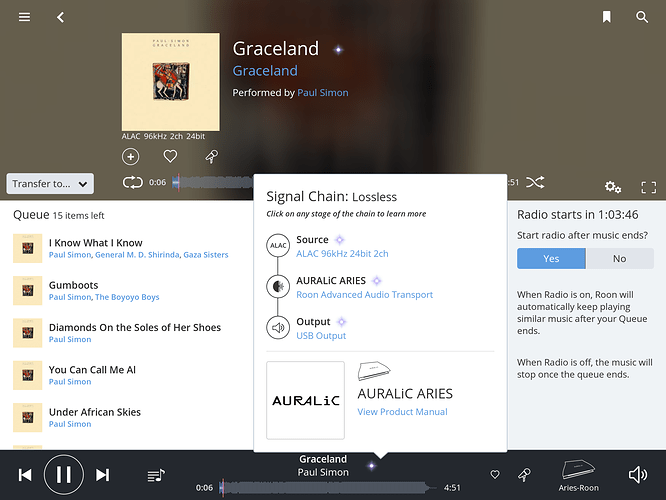 The only issue is that Roon seems to loose contact with the Aries sometime for a brief time. Connection isn't very stable (even though my network is wired)
Hi Evert,
Do you have a fixed IP address for the Aries in your router ? I found this improved connection issues with AirPlay and would expect it might also with RAAT.
Seems most have their problems but with some insistence they get through ! Great .
Just to be certain, I gave it a fixed one. All seems stable now.
Thanks Brian, I'm sure you know Auralic also updated to 3.0 about the same time, not sure of the exact timeline of things.
From time to time (or after macbook sleep cycle) Roon 1.1 build 102 on OSX 10.11.3 loose connection to AriesRoonSpeaker. After Roon application restart it immediately connect to AriesRoonSpeaker.
Anyone else having this issue with Aries (firmware 3.1) and RoonSpeaker?
All should be fine from network perspective as when this happens I can still reach Aries via Airplay from the same mac.