Core Machine (Operating system/System info/Roon build number)
LENOVO_MFF_ThinkCentre M900
Windows 10 Pro (10.0.19041)
Intel® Core™ i7-6700T CPU / 16GB RAM
Foobar2000 (No problems)
Roon Version 1.7 (Build 667) stable (64 bit)
Network Details (Including networking gear model/manufacturer and if on WiFi/Ethernet)
ASUS RT-AC68U (Connected with WiFi)
QNAP NAS HS-251+ (Music Storage)
Audio Devices (Specify what device you're using and its connection type - USB/HDMI/etc.)
Chord Async USB 44.1kHz-384kHz
Description Of Issue
Hello. First time on the support forum here. Please pardon any amateur mistakes.
I have had this setup running just fine many months now. Then the Roon app* started crashing on Startup around October 20, 2020. It is Crashing after a few minutes of Storage Scanning which is on my Qnap NAS. The PC itself works fine and I can re-open Roon but it will crash again in a few seconds to minutes.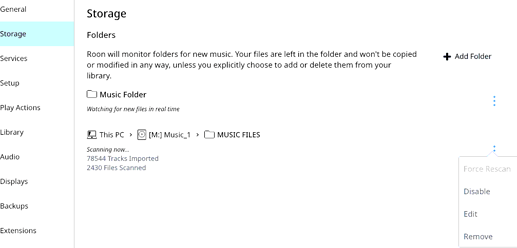 I have done a lot of trial and error with no resolutions. This I have tried are as follows:
(mostly in this order)
NAS: Initially I thought it was my NAS. SO I rebooted it, upgraded F/W and app updates. No change in crashing

Music Files: Looking at the Roon log I found a couple of files which Roon was finding corrupt. I have since removed said files but still no change in condition. Even started with a Fresh DB Rebuild every time.

Lenovo System Updates: I noticed on other articles that it might be the Video Driver needing update. So I proceeded with Lenovo System update to get the driver updates taken care of. There were quite e few to my surprise. Including BIOS. So I did all that. Still no change on Roon crashing.

Display Adapter Settings: I changed the Display > Graphics Settings and set the Roon.exe to use High Performance (GPU Intel® HD Graphics 530. Rebooted. Still No change.

Windows Update (2004). I saw articles where the Windows 10, 2004 update was causing problems with Roon. Unfortunately I was not able to rollback with system restore but I Uninstalled all the recent updates in October 2020 and disabled Windows updates for the time being.

.Net Errors in Event Viewer: Went away after I removed the latest .net update from MS. Still crashing though.
Application: Roon.exe
Framework Version: v4.0.30319
Description: The process was terminated due to an internal error in the .NET Runtime at IP 745F98CE (742E0000) with exit code 80131506.
Roon: Needless to say, I have uninstalled and re-installed Roon multiple times in-between. I have even tried the 32 bit version with a fresh database every time. still no change.
Interestingly, if I DISABLE the Storage Scan then Roon stays up no problem. Although that is certainly not the solution. Other apps like Foobar2000 have no problems playing the same audio files and such.
Any help is much appreciated.