Roon Core Machine
Dell Laptop, dedicated as a Roon Core about new 3 years ago. Windows 10.
Networking Gear & Setup Details
Modem/Router: Netgear Nighthawk CXA80. This is a new modem/router. Standard set up. UPnP is enabled (checked personally in advance settings). Cell phone is a Samsung Galaxy S21.
Connected Audio Devices
Modem/Router>Wifi> Laptop>Wifi>Phone
Number of Tracks in Library
I dont know. I have about 200 albums.
Description of Issue
ARC won't connect outside my home network.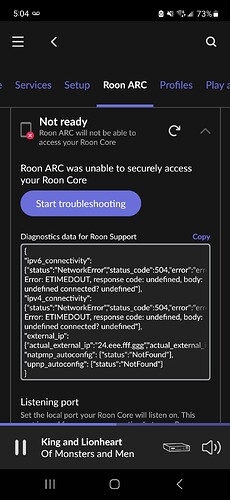 I have UPnP enabled. I don't have firewalls or multiple NATs.