So, as per many peoples comments, the Roon can't connect to Roon Arc.
After a bit of investigation this is how I resolved the connectivity on my UK Plusnet Hub One.
Initially, I decided to give my ROCK a static IP of 192.168.1.50. I setup port forwarding by setting the port that was shown in the ROON Arc settings (50002)

UPnP is enabled and all other settings are default. I had set a DHCP range starting from 192.168.1.100, hence the static IP value.
Still no connection , so I looked at the router logs and saw this.
As you can see the port 55002 is using IP address 192.168.1.106, why i have no idea.


However when I changed the IP address of my ROCK server to this IP then Roon connected to Arc.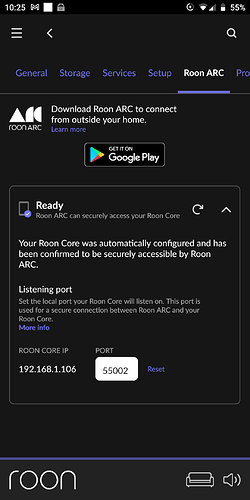 Hope this helps someone.