Hi: After experiencing the exact same issue in terms of the Authorization Screen I wanted to know if this is a Roon client issue or is there some other way of handling this?
I have been using Roon for about 2+ years. This is new, although it more or less ties in to using the new iMac I have running as the Core. (see description below).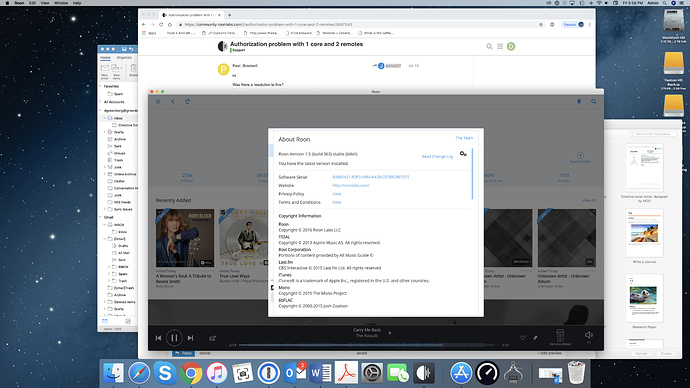 I connect to it with an iPhone 6, an iPad Mini 4 and the other older iMac. And most times, but not always wish to make the music selection on the core machine. So not sure if you say that machine is a Core and a Remote? Or is it considered just the Core? Not sure of the terminology used.
Does Roon's technical team believe this was solved? It is kind of an old post so not sure if the newer Roon versions have tried to address it. In any case I still have the problem with
I have an iMac 27 inch (new). See uploaded file below for the description.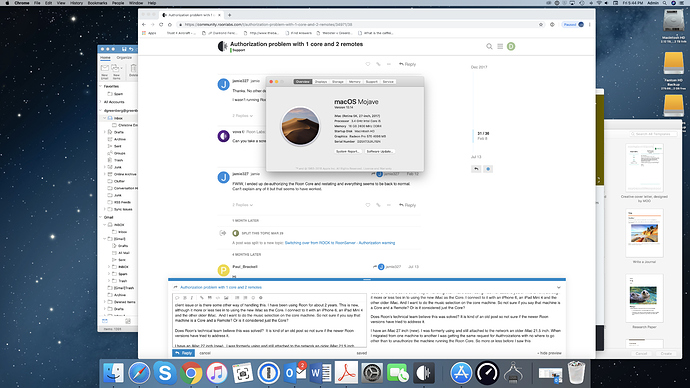 I was formerly using and still attached to the network an older iMac 21.5 inch. When I migrated from one machine to another I was getting the same request for Authorizations with nowhere to go other than to unauthorize the machine running the Roon Core.
So more or less before I saw this Community Post, I had Roon running fine, then it would not play any music, as if there was a failure to recognize the 3 zones I have. Sometimes it would not see the zones at all. Other times the zones would appear but could not play any music from them.
So Roon works fine for a bit. Then I shut it down overnight and it does not work in the morning. Get the authorization screed if I close the app and then try to use it later.
What is the fix? For me it is recurring issue, I have Roon app closed and then open it I have to reauthorize the computer.
I agree with the other posters, there is no way to get out of the authorization screen other than to deauthorize the core on the machine Roon is running on.
Thoughts? I am sure there was some solution since this thread was started.
Thanks
Dan