Core Machine (Operating system/System info/Roon build number)
Mac Mini Late 2012 i7 16GB
Ubuntu Server 20.04.2 LTS
Roon version 1.8 build 790
Network Details (Including networking gear model/manufacturer and if on WiFi/Ethernet)
Core: Cable 1Gb to Cisco 2940CG subnet 192.168.20.0/24
Mac 1 : Cable 1Gb to Cisco 2940CG subnet 192.168.20.0/24
Mac 2 : Wifi 100Mb Mikrotik cAP subnet 192.168.20.0/24
Ropieee : Wifi 100Mb Mikrotik cAP subnet 192.168.20.0/24
Audio Devices (Specify what device you're using and its connection type - USB/HDMI/etc.)
Ropieee version 1.7 build 571 no audio device
Description Of Issue
MacBook Pro 1: Os version 11.2.3
Roon version 1.8 build 790
MacBook Pro 2: Os version 11.2.3
Roon version 1.8 build 790
Ropieee is showing in Roon → Setting → About on Mac 1
Ropieee is NOT showing in Roon → Setting → About on Mac 2
Both Mac's are connected to the same Core
Both Mac's work perfect as a client without any issues.
Why is this?
Should this information be the same on both Roon Clients?
*This issue is trivial and does not need to takeup support resouces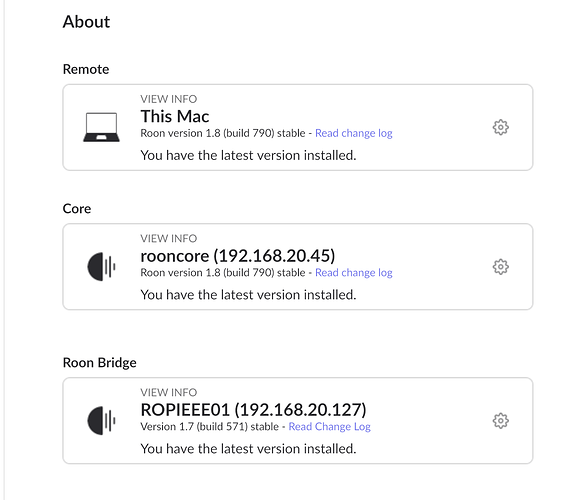 Screenshot from Mac 1, screenshot from Mac 2 is the same except that it does not show Roon Bridge.