I have RoonCore 1.2 running on a MacBook Pro / OS X 10.8 (upgraded from Roon 1.1) and controlling from an iPad. Everything is working great, as expected. Thanks for the great work.
Then I installed RoonBridge on an iMac / OS X 10.11 (was working reliable as RoonClient under Roon 1.1) and started the app (RoonBridge Status = running). My core (and my iPad Air Control) can't see RoonBridge on the iMac. No software firewalls or other audio apps running on both systems. Restarting everything doesn't help.
After that i upgraded Roon 1.1 on the iMac to 1.2. Roon 1.2 on iMac connects to RoonCore but can't output music to local USB DAC and/or own system output (worked under Roon 1.1). But it can output music to the Core.
Then I quit Roon on iMac, deleted Roon folder in ~Library/ , restarted Roon and selected to access my RoonCore. No change. Deleted Roon folder in ~Library/ again and restarted Roon and set up an new Core on iMac. To my surprise I now have two cores in one network, working simultaneously, access the same network folder on a qnap NAS and playing music to an Auralic Aries mini via AirPlay (not simultaneously – but one after another works well). But they don't see each others Audio devices in Settings/Audio. Refreshing/restarting doesn't work.
Screen shot MacBook Pro: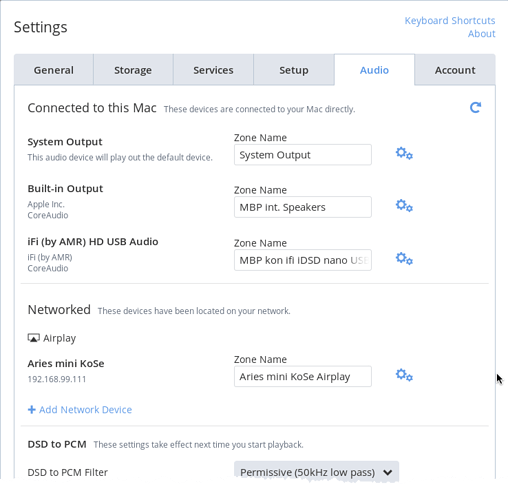 Screen shot iMac: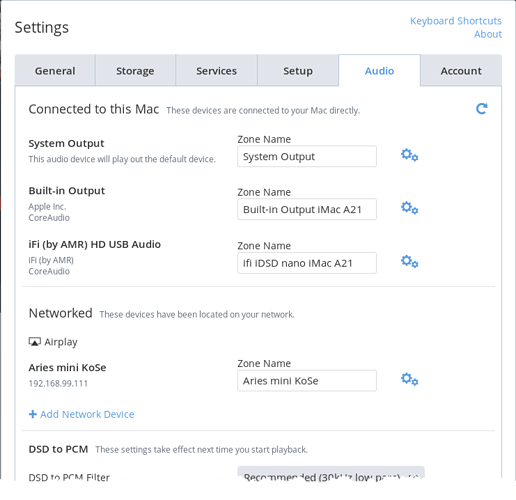 Screen shot iMac RoonBridge Status on iMac: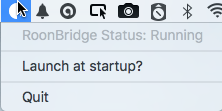 Screen shot iPad (connected to Core on MacBook Pro / RoonBridge visible that is not accessible via Audio Settings)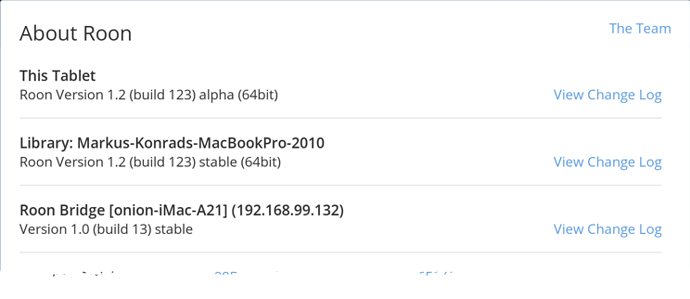 What shall I do to be able to play music from RoonCore on MacBook Pro on iMac (controlled via iPad, MacBook Pro)?