Roon Core Machine
Windows 10 Pro, i7, 8GB
Networking Gear & Setup Details
Unifi Switches, Ethernet
Connected Audio Devices
ropieee > USB > Amp
Nvidia Shield Chromcast
Library Size
3400 tracks
Description of Issue
So I have core running on PC1, I want to be able to use PC2 as an endpoint using the speakers on PC2. Everything is on a wired LAN.
Problem - On PC2 when I go to Settings> Audio. Under 'This PC' i would expect to see my PC soundcard(s) and simply enable / name them. HOWEVER, it is showing me the devices from PC1 (Core), and NOT PC2
Troubleshooting done to date
All firewalls disabled
Roon completely installed from both machines, all roon folders deleted
New core installed and setup from scratch
New core installed and restored from backup
PC completely clean Windows installation
Disabled / enabled the sound card in device manager on the core. Roon correctly shows the audio settings on both PC1 / PC2 when I do this - so I know what I am seeing is the device from the PC1 (core)
Screenshot taken on PC1 (core)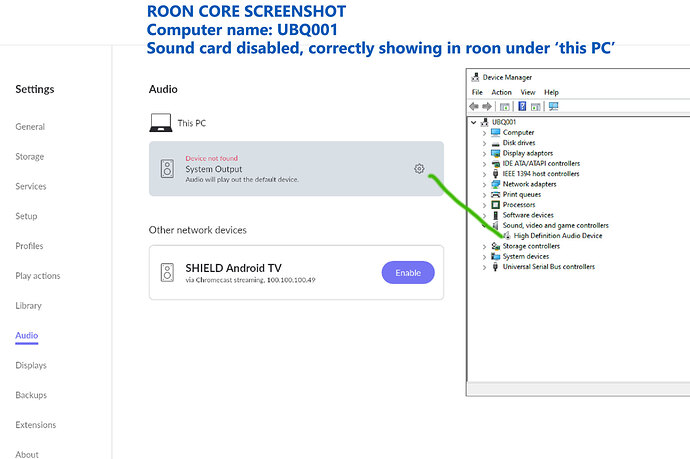 Screenshot taken on PC2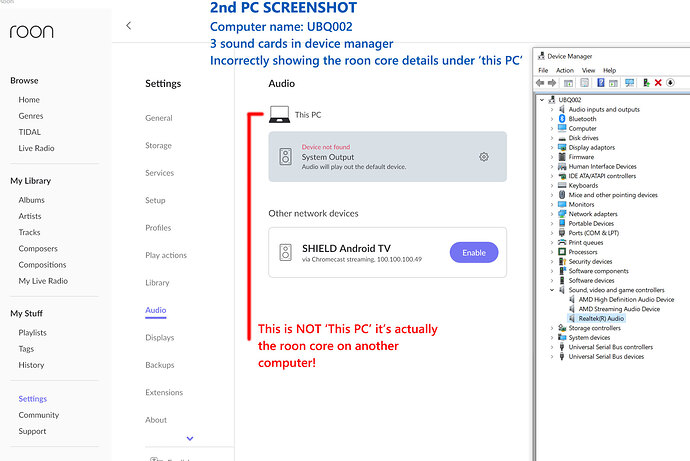 So what magic is going in the background. Why is Roon incorrectly showing the audio devices from PC1 under 'this pc' when I look at settings from PC2.
How does roon, under the hood, identify unique PC's (I think this may be something to do with it).
Any help appreciated as it's driving me nuts. Thanks