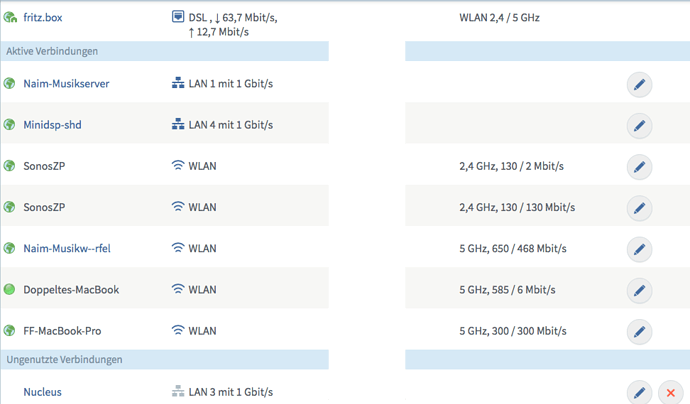 Roon Core Machine
Roon Nucleus.
Ssoftware as of mid-March; I cannot call up the exact version due to lack of contact with the Nucleus.
Networking Gear & Setup Details
AVM Fritz!Box 7530 > Ethernet to Roon Nucleus
Connected Audio Devices
miniDSP SHD Studio:
input: Ethernet via AVM Fritz!Box 7530 (streaming service and NAS)
output: SPDIF Coax to Nubert loudspeakers with builtin DAC
Description of Issue
Dear community,
from one day to the next Roon stops working without consciously changing anything in the configuration; the attached screenshots show the screen messages.
I also tried to enter the IP address under "Help" without success.The network basically works, but the Roon Nucleus is no longer visible in the Mac Finder.
Unfortunately, because the Nucleus cannot be found in the home network, I cannot access the web UI to restart something or similar.
In the router, the Nucleus is listed under "unused connections", so it could be a router problem; however, the router settings are correct and all other devices in the home network are running.
Oddly enough, Roon Support is not responding to my query (at least not yet; I wrote for the first time on March 19th).
I am very happy about help!
Thank you in advance for your feedback
Best regards,
Frank