Core Machine (Operating system/System info/Roon build number)
Happens on two devices:
1: Running Windows 10 Version 2004 Build 19041.508
on AMD Ryzen 9 3950X CPU
NVIDIA RTX 2070 with latest NVIDIA drivers 456.38
2: Running Windows 10 (unsure what build)
Intel i7-8750H
NVIDIA RTX 2060 with latest NVIDIA drivers 456.38
Network Details (Including networking gear model/manufacturer and if on WiFi/Ethernet)
Happens on multiple devices on Wifi and Ethernet
Audio Devices (Specify what device you're using and its connection type - USB/HDMI/etc.)
Audioquest Dragonfly Cobalt mostly, but not relevant
Description Of Issue
After updating to the latest NVIDIA drivers on both machines running Roon Core, trying to resize or move the Roon Core window breaks it completely as it goes completely black and is, obviously, unusable. Here is it when I open it: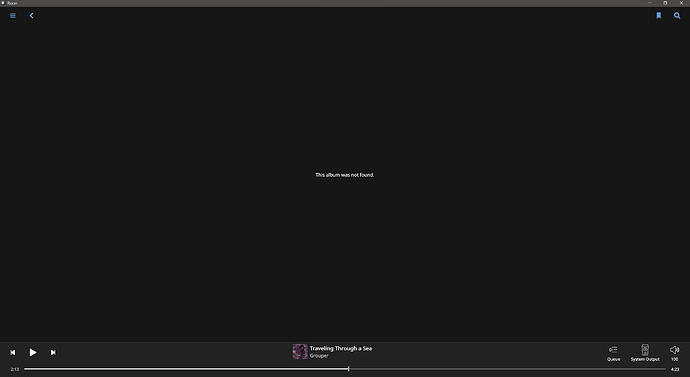 And if I press the resize window button in the top right, or try to move the window, or really change the window in any way, it becomes this: Moving to second monitor does nothing, maximising the window again does nothing, the only option is to restart Roon. Additionally there will be occasional rendering errors with buttons and the like (the select zone button will sometimes go weird and multicoloured briefly etc). Since this obviously only has started happening after I updated NVIDIA drivers, that is the most likely culprit.