I have pointed my Core at a Music folder on my NAS (one that has only about one-third of my music in it). It dutifully starts Adding Tracks to Library. But it stalls when it hits roughly 30,000 tracks identified. Music will continue to play, but no more tracks are added, no matter how long I wait. These are all LPCM files, mostly in Apple Lossless format.
At this point, if I try to quit Roon, the window closes but the application remains open on some level. It shows up when I Control-Tab in Mac OS, for example. It does not respond to a Force Quit command. It even prevents the machine from Shutting Down. Instead, I have an endlessly-spinning clock icon. I have to do a Hard Reboot to get my machine back.
When I restart the process, it is not clear to me whether it picks up from where it had gotten stuck, or simply starts over from the beginning.
I am running Roon Core on a late 2013 MacBook Pro Retina with 16 GB RAM, on macOS Sierra 10.12.1. Screenshots uploaded (note the time stamps).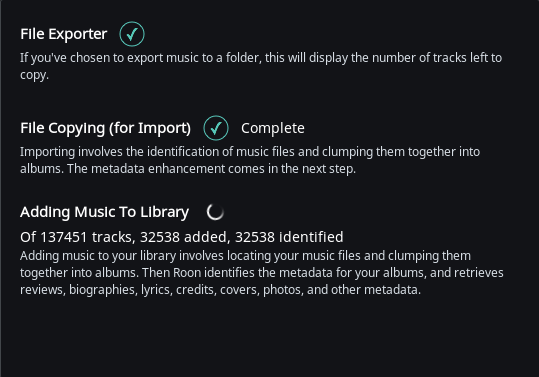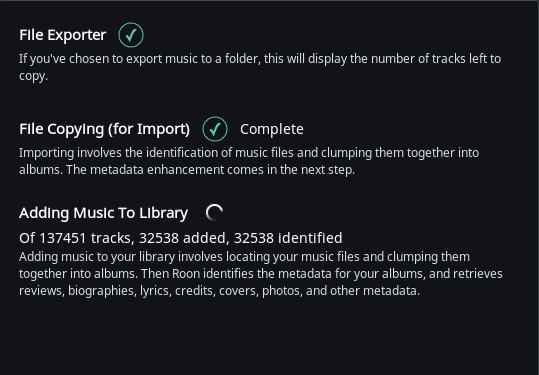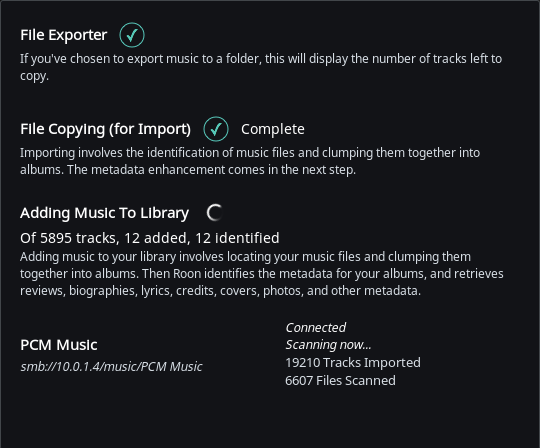 ---
Is there anything else I can provide you to help troubleshoot the problem? I can do a screen capture movie of this behavior if that would help.