That's super interesting. Somebody buy one and try it and post the results. I am too cheap to buy one.
Hope so, probably be much cheaper.
Nice but expensive. I always worry about cooling as well - I am old school in this respect I appreciate but give me a nice big slow spinning fan to shift plenty of air quietly any day… I find Micro-ITX the right compromise between size and the ability to case it and cool it properly. Much cheaper too.
I can't see why it wouldn't. How fast it would be, particularly with a large database, I think would be the area under test. But a simple database and no/minimal DSP and I think it would be good enough.
I am running a similarly spec'ed ASRock J4105-C right now. I dont do much DSP but this little bugger will effortlessly upsample redbook to DSD256, while drawing less than 15W power. (with a 3.5" 6Tb media drive and a 250Gb SSD for OS)
Runs Roon Core very nicely. (I strongly recommend spending a few extra $ to get dual-channel RAM.)
If you're interested, buy one before they run out of stock (I think they've been out-of-stock for the vast majority of the time they've been nominally in production).
problem with many of these SBC's is cases that look the part. fun to tinker with but I have several MOCK machines and a NUC ROCK that I have used over time. My latest MOCK was a Win10 running i7-7700 Fanless and that does everything I need just fine.
Of the 5 SBCs in my house (all fanless), the Odroid H2 running Roon Core consistently runs the coolest: 39-41 ℃ under normal operations.
Jaques, what OS are you running on the Odroid?
CPU usage while streaming from Qobuz: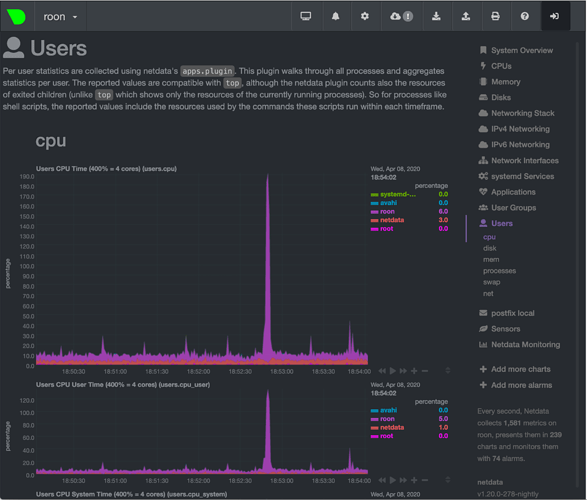 400% = full CPU usage of all 4 cores.
Same thing, but now upsampling to 32/768 PCM: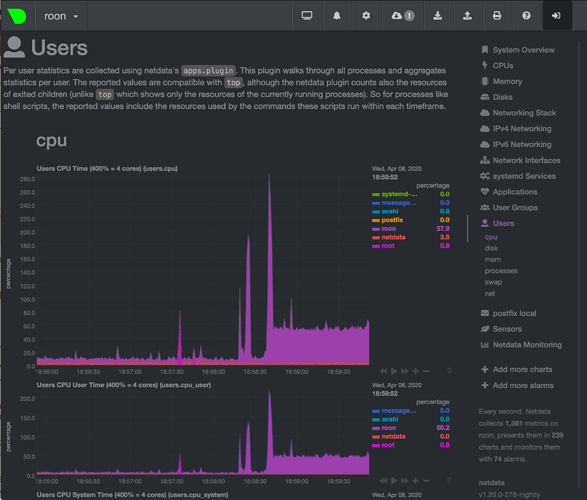 Still only 50% of a core.
That's excellent performance for an x86 sbc. I was waiting for the atom based rock pi x to fool around with, but that odroid looks like it does the trick beautifully.
Will roon run on a Odroid H2+? Only discovered the device today.
Since you asked me, if @Jacques_Distler says it's good, it's good.
Roon Core can be run on any x86 device.
OTOH, as a Core the H2 CPU is underpowered (IMO) to do any heavy Roon lifting, i.e. involved DSP or multiple simultaneous endpoints