Core Machine (Operating system/System info/Roon build number)
Windows 10 Pro, Version 2004, OS Build 19041.450, Windows Experience Pack 120.2212.31.0
Intel i9700k CPU @ 4900Ghz
32Gb RAM
Samsung 970 EVO Plus M.2 500Gb system drive (Roon app and library DB)
Samsung 970 Evo 2Tb M.2 data drive (Music files)
Gigabyte Z390 Pro Wifi MoBo
BitDefender AV/Software FW
*Roon 1.7 (WAS build 571, is now build 610 as of about 10 minutes ago!)
Network Details (Including networking gear model/manufacturer and if on WiFi/Ethernet)
Ubiquiti AmpliFi Mesh Network
Core connected via small passive Gb Switch to LAN port on Router Base
Primary Zones a mix of LAN and WAN
GB Fibre Internet Connection
Audio Devices (Specify what device you're using and its connection type - USB/HDMI/etc.)
RoPieee XL (LAN) into Cambridge Audio DACMagic Plus
KEF LSX (LAN)
Chord Mojo Poly (Wifi)
Sonos 1 (Wifi)
Remote client on iPad Pro 12.9" and iPhone 11 Pro Max
Description Of Issue
This setup has been up until now, solid as a rock for nearly a year with the Ubiqiti and for 3 years + before that with other network gear, but over the last 2 weeks or so is becoming increasingly unstable.
Whilst listening on any of the Zones, (primary ones are Ropiee XL, KEF LSX and Mojo Poly) the audio will stop and the client will start searching/connecting to the core for a random period of time - sometimes a few seconds, sometimes a minute or so - before reconnecting.
Once reconnected, the playback doesn't/won't resume for another random period of time and at this point if I browse the audio zones in "Setup" from either the remote OR on the Core itself they are all missing from the list except for my KEF LSX, Airplay Apple TV and Sonos. If I try to play to any of these nothing seems to happen.
After another random period of time (seconds to a minute or so) all of my zones then re-appear and I can continue playback. If at this point I restart the core instead, this seems to speed up the fix.
**Even weirder is the fact that when the core/zones are otherwise working fine, all of my zones - active and inactive - all duplicate themselves 1 or more times and I end up with a long list of copies as shown in the video below!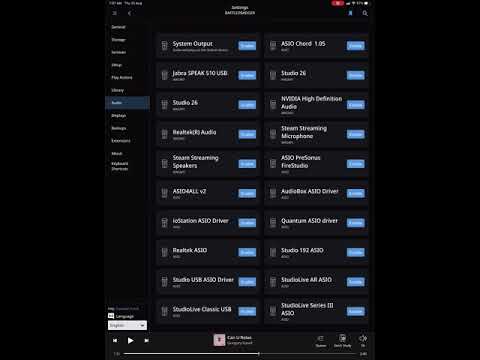 Important to note that when all of the zones vanish from the list, it includes local ports, ASIO and USB connections to the core as well as the network, suggesting to me that this is not a "Network" issue, but something in the Roon Core app/RAAT Zone connectivity tech?
Thinking about what has changed in my system, the only thing I can really think of is the last major Windows update a month or so back and a recent motherboard BIOS update to the latest version - otherwise all network gear, Core gear and zones are the same as they have always been as far as I can recall.
Everything else on the network is stable and solid - when these drops happen, neither the core or the zones are visibly losing connection to the network or each other outside of the Roon app.
The disconnections impact the remotes and the audio zones simultaneously, but the core itself is still running normally - excepting that it cannot see any audio zones on the network for the length of the drop out (other than the ones above)
So far I have tried:
A bunch of network, network adapter and cable tests - all of which seem fine
Renaming/rebuilding my RAATServer Folder from scratch
Swapping around Ethernet cables
Disabling all software firewalls/ensuring rules allow for Roon.exe and RAATServer.exe
Ensuring all Ubiquti Firmware is current
Ensuring all Windows updates are current and network/lan drivers are latest
Nothing seems to work and the dropouts are still persisting - sometimes it will be hours and sometimes seconds between them. Eventually if left alone, it will always resolve itself and reconnect to everything.
help me Obi Wan!