As they message says, do you have the latest display drivers installed?
Display drivers should not matter, as this Win10 Pro x64 systems ordinarily runs "headless" (no display, keyboard, mouse). In any case, display drivers are current. I only occasionally log in via Remote Desktop, which is how I discovered the issue when the Roon server didn't restart.
Then why not just install Roon server rather than the full blown app, if you're using headless?
It'll take up less resources. Full blown roon needs a full gui and a bit of gpu horsepower behind it
Are you attempting to start Roon using a remote desktop session?
It would help Roon staff and community member if you described your setup in a little more detail, as defined here:
Furthermore, this thread should ideally be in the #support category.
I've moved this thread into the Support category of the forum, where it will be seen by the Support team.
Can you please let Roon Support know these details so that they can better assist you? Thanks!
---
Roon Core Machine
Include your operating system and machine info (Model, CPU, RAM)
Networking Gear & Setup Details
Your network gear (model of routers/switches) and if on WiFi/Ethernet
Connected Audio Devices
Specify what devices you're using and their connection types, like USB/HDMI/Chromecast, etc.)
Number of Tracks in Library
Tell them how large your music library is, eg. "30,000 tracks"
Description of Issue
Tell Support about the problem you're having in as much detail as possible. Screenshots are always appreciated!
And as has been suggested, if you're running this on a headless system, then you really should be running Roon Server as the Core, and not full Roon with its user interface…
How do I tell whether I have the server only or the full app?
The server has no GUI. When you install it, it only shows up as a small icon in the system tray section of the Taskbar. You then need to open up a client to connect to the server.
Core machine: Win 10 Pro x64. Intel Core i7-7700. 16GB memory.
Network: TP-Link Archer AX11000.
Audio devices: Via Remote Desktop.
Tracks: Approximately 22,000 files.
Issue: Pop-up about WGL indicates some hang when applying latest release (911). I'm not sure the pop-up indicates the problem or is a symptom.
There's no Roon icon in the system tray. As far as I can tell (see below), I'm getting the full GUI: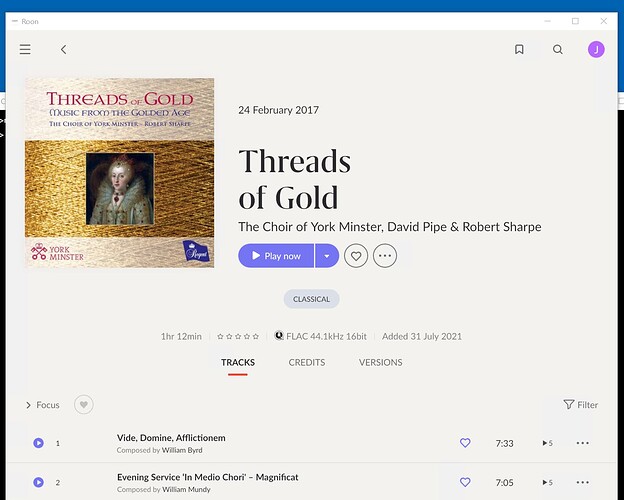 You have a GUI, you are running Roon (with both server AND client) installed, the default installation. The suggest was to instead install just RoonServer which does not have a GUI and shows up in the system tray. Since it does not have a GUI it does not need OpenGL.
OK, given what I have now, how do I install only Roon Server? Do I, for example, uninstall Roon altogether and then install Roon Server?
You'll find Roon Server software on the Downloads page.
Best to uninstall Roon and then install Roon Server.
If you want to preserve your Library and settings, then you will have needed to have taken a backup in the past. Once Roon (Server) is up and running, then you can connect to it using a Roon client and access and restore the backup.
Yes, uninstall roon, then install roon server instead.
It's more lightweight, doesnt have a GUI and can be set to auto start on machine bootup.
Its the better match for your intended use case
This topic was automatically closed 36 hours after the last reply. New replies are no longer allowed.